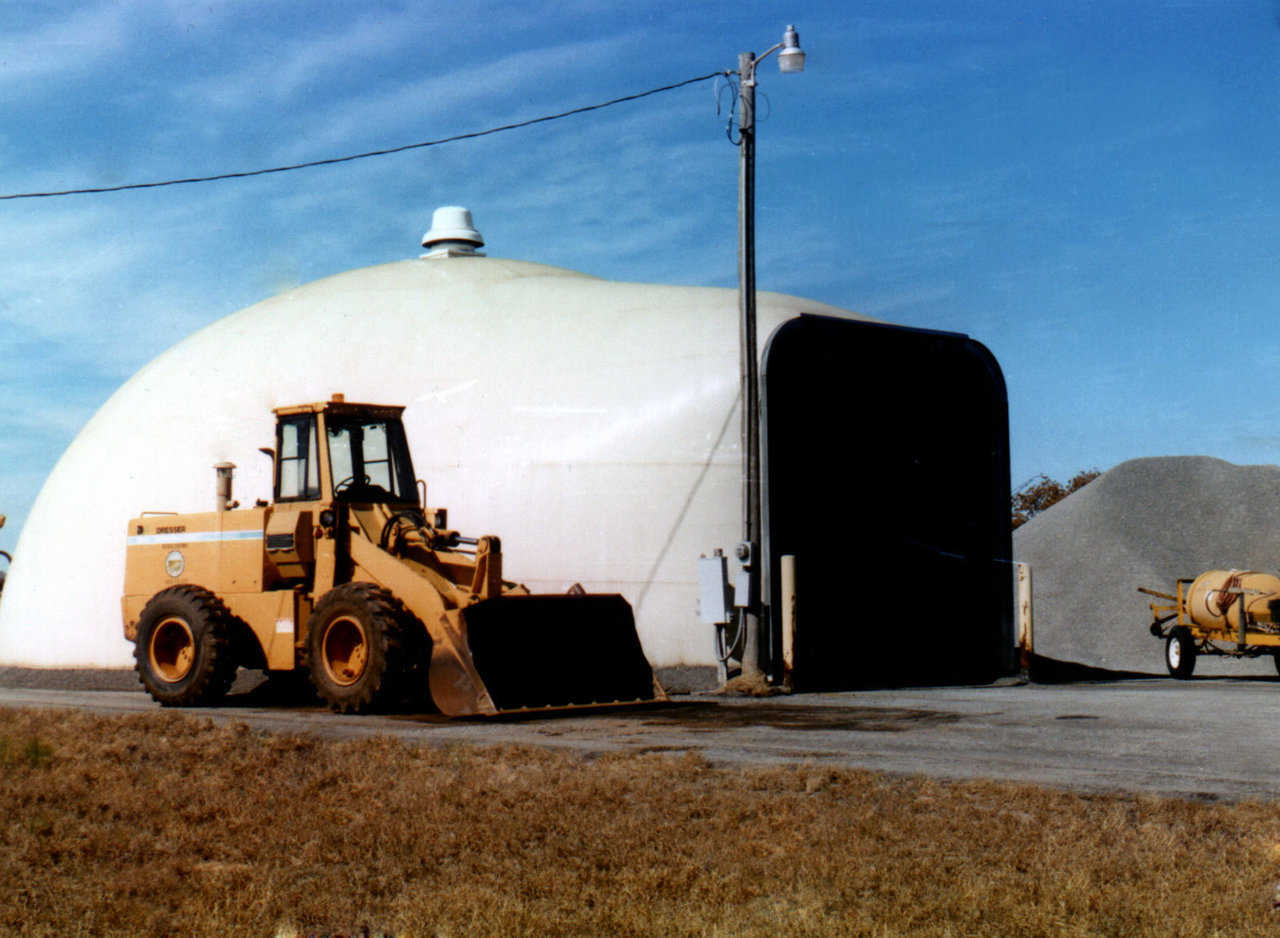 ---
Monolithic Dome Salt Storages
Presenting the 1000-ton, 1500-ton and 2500-ton Monolithic Dome salt storages
Here they are: Pre-engineered and pre-designed Monolithic Dome salt storages available in the three sizes needed by most communities.
More importantly, the purchase of any can now be done more simply and quickly. See below, a Price Sheet with the specifications and construction costs of either salt storage available for review and consideration.
That Price Sheet enables buyers to review our product, decide if it is what they want and make a purchase.
A new bidding method
We know that in most jurisdictions the process of purchasing a new structure includes soliciting and reviewing bids. Now buyers can simplify that process by using our salt storage specifications as the basis for their bids.
For buyers who do that, Monolithic will bid the building per those specifications, at the price listed on our website.
Salt storage going up!
Site for the Monolithic Dome must be leveled and pad prepared by the buyer. Monolithic will build the salt storage per the accepted and agreed on specifications.
Buyer will be responsible for accessing and providing water and electricity at the site.
Buyer can opt to have Monolithic or another contractor build and hang the doors, set the bollards and construct the floor.
Monolithic recommends a six-inch-thick, concrete floor with an asphalt overlay or an asphalt floor. We also recommend coating the inside surface of the dome with two coats of linseed oil, one thin and one full strength, available through Monolithic at an alternative price.
All electrical, mechanical or any other devices for installation in the dome will be the responsibility of the buyer.
Most salt storage structures are filled by pushing the salt into the building with a front-end loader. But if the buyer plans on pouring the salt into the dome through a top opening, Monolithic will construct the salt storage with an opening at the top.
For the Airform, that will be the dome's outer membrane, Monolithic suggests choosing a white or sandstone color. But other colors are also available.
Dome walls will be eight inches thick and up to ten feet high. That thickness of concrete provides bang-wall protection from most normal loaders. For buyers who will use super-size loaders, the dome walls can be made thicker. The dome's roof section will be 2 1/2 inches thick.
A Monolithic Dome salt storage has the strength to withstand a tornado. When not used for salt, such a structure makes an ideal, fully secure facility for the storage of vehicles and expensive equipment. It can also make a great workshop.
Salt Storage Prices (effective as of December 1, 2014
1,000 Ton Salt Storage $144,000.00

options:

Bollards + $800.00
Swing Doors + $2,300.00
Linseed Oil Application on building + $4,500.00
Linseed Oil Application on floor + $2,000.00
6" Concrete + $12,000.00
1,500 Ton Salt Storage $194,500.00

options:

Bollards + $800.00
Swing Doors + $2,300.00
Linseed Oil Application on building + $5,500.00
Linseed Oil Application on floor + $3,000.00
6" Concrete + $18,000.00
2,500 Ton Salt Storage $273,000.00

options:

Bollards + $800.00
Swing Doors + $2,300.00
Linseed Oil Application on building + $6,500.00
Linseed Oil Application on floor + $4,000.00
6" Concrete + $24,000.00
The above prices include the actual construction, with buyer furnishing a dome-ready pad and electrical power, water, toilet facilities and refuse removal at the site. If this project is to be done using prevailing wages, the cost will increase by the added amount of prevailing wages.
Please contact us at 972/483-7423 or [email protected] with your questions and concerns.
"Shotcrete domes … are the most common salt storage structures being built today." -Rocky Mountain Construction Magazine
The old and the new
For many years highway departments and airports stockpiled salt outdoors, near runways and major thoroughfares, to simplify de-icing roads and runways. They halted this practice when they discovered that if a salt pile got wet, the run-off made its way into nearby streams, concentrate in a certain area and kill the vegetation.
(There doesn't seem to be much problem with salt run-off when spread out on the streets. The problem occurs with run-off from a concentrated source, such as a pile.)
Currently salt is stockpiled indoors in industrial storage units.
Salt in metal or wood
Any building that will hold salt can certainly be used as a storage, but metal buildings tend to rust away very rapidly when storing salt. The condensation, rain, and wet conditions put the ionized salt against the metal and destroy it fairly quickly.
Wood buildings do better than metal, but they have their own problems. Salt rusts the nail heads and destroys anything corrodible within the storage. And wood storages often do not tolerate damage caused by equipment mishaps. Then too, many wood slat storages have been set on fire, either by accident or by vandals.
Salt in Monolithic concrete storages
Monolithic Domes are solid concrete on the inside. Concrete handles salt damage far better than just about any other building material.
Because the domes are strong, it's difficult to damage one with a front-end loader. They are also disaster-proof, fire-resistant and virtually vandal-proof.
The Monolithic Dome is also super-insulated. That insulation and its Airform covering protect the building from water. Condensation is virtually non-existent with a Monolithic Dome; therefore salt within the dome stays dry. Dry salt in not nearly as corrosive as wet salt.
A Monolithic Dome salt storage costs about as much as a wood structure. The dome's life expectancy is so much longer than that of wood or metal, that it was determined years ago that the best salt storages are Monolithic Domes.
Recommendations by Rocky Mountain Construction Magazine for selecting salt storage sites:
Safety for those who work in or use the storage area and for those driving by on access roads, plus security to keep out persons who have no business at the site
Easy accessibility to the site and in and out of the storage facility itself
Compliance with local ordinances and regulations
Attractiveness, with well-maintained buildings and good onsite housekeeping
Economy, that is, avoiding waste of salt from inclement weather, and locating the storage facility to avoid long distance hauling
Controlled drainage from the stockpile, which should be on a properly sloped bituminous pad and containment of drainage to avoid environmental problems with the surrounding area
Reference: "Covered salt storage essential to good snow control operation," Rocky Mountain Construction Magazine, September 19, 1988, P. N-19
Click here to view the Division 13 spec sheets for Salt Storages.
January 2004