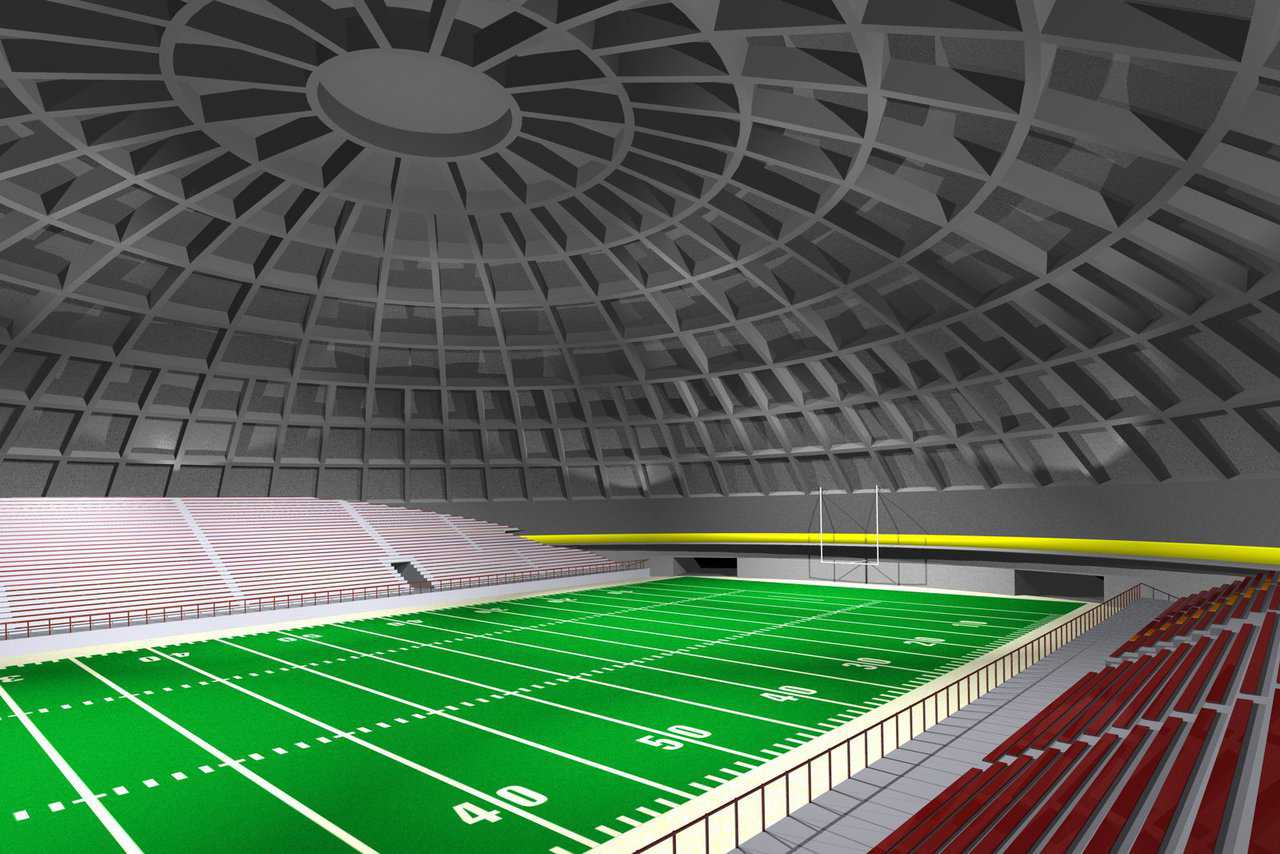 ---
The Monolithic Crenosphere Dome
A dream come true!
If you think your organization just can't afford to build the ultimate sports facility, think again! The Crenosphere Dome is here, and, as far as super stadiums and arenas are concerned, it's a dream come true.
The Crenosphere is the largest dome of the Monolithic Dome family. MDI President David B. South says, "Crenospheres can be designed and built with diameters ranging to 1000 feet (300m) and heights to 500 feet (150m). A huge dome like that can accommodate thousands of spectators and any number of activities. A professional league, city, university or high school could hold just about any sport, ceremony, special event, or practice session in a Crenosphere. Various activities can even be held simultaneously if they're allotted their own areas.
"All that," David continues, "can take place in an enclosed structure that's independent of the weather, comfortably heated in the winter, cooled in the summer, and whose ground cover could be a quality artificial turf."
Till now, many athletic directors, city officials and academic administrators thought that their dream of an enclosed arena was the impossible dream; that is no longer so.
Again, for sizes up to 434 feet in diameter see the Monolithic Megasphere. With new technology we have been able to increase the size of the domes without the cables on the exterior.
The Crenosphere's Advantages
Significantly Lower Construction Costs – In some situations, the cost of building a Crenosphere could be half the construction cost of other types of sports facilities, with nothing sacrificed in playing space, spectator seating, concessions or other amenities. The Crenosphere's construction process makes it affordable. A single contractor can build the shell, using readily available materials. Since most of the construction happens on the inside, not the outside, of the Airform, an efficient construction schedule can be maintained — one that does not depend on weather, temperature or daylight. With three shifts, construction can continue on a 24-hour basis.
Interior Design Flexibility – The Crenosphere's interior adapts readily to almost any plan. Its inside is just space — beautiful, open space. There are no pillars or posts — only unobstructed space. Crenospheres can be single-level or multilevel; they can include mezzanines, hanging press boxes, concession and dining areas, spectator seating and lounges, restrooms and lockers.
Effective Seating of Large Assemblies – Domes create the best assembly occupancies that can be had. There's no better way to get the maximum number of people in the smallest volume all facing the same direction. There's no better shape than round. With dome technology, we don't have to accept the limitations of traditional architecture.
Energy Efficiency – A Crenosphere has superior insulation with an effective R60 value. This eliminates sudden changes or peaks in the Crenosphere's interior temperature and greatly reduces heating and cooling costs. What heating or cooling the dome requires can be provided by smaller or fewer units, running for shorter periods. Dr. Arnold Wilson, consulting engineer with MDI, says that the Crenosphere's superior insulation is an automatic result of the foam layer sandwiched between its Airform and its concrete.
Interior Climate Control – The Crenosphere is the ideal structure for controlling the weather in a play space. David says, "If you want to surf, you can build an indoor wave pool and keep it swimmingly warm. Or consider this ultimate sports facility: an indoor ski mountain. You can build a ski mountain inside a Crenosphere in the middle of a hot, densely populated city. Its residents can practice their skiing skills without going out of town and regardless of the weather."
Exterior Design Flexibility – The variety of sizes and shapes make the Crenosphere ideal for football, indoor soccer, baseball, arena football, hockey, basketball, softball, tennis, etc.
Cost Efficient Maintenance – The concrete and other materials used in the construction of the Crenosphere make the structure extremely durable and low maintenance. David says, "Because the Crenosphere does not have a roof such as traditional buildings have, the Crenosphere does not have roof problems. The roof of the Crenosphere is simply the uppermost part of the dome. There are no shingles to blow off or develop leaks."
Durability – The Crenosphere's lifespan is measured in centuries, not years. It cannot burn, blow away, or be eaten by bugs. Such durability means less costly insurance premiums, and, more importantly, security.
Security – A Crenosphere Dome can instantaneously become a disaster shelter and protect the population of a school or a community from the destructive force of a tornado, hurricane, or earthquake.
Twenty years of research and development went into the Crenosphere's invention, and the patent awarded to David South that allows its construction took another two years. But according to David, "It was well worth it because what this means is that we"ll be building huge domes as covered stadiums and arenas and doing it at prices more institutions and organizations can afford. Now that's a dream come true."