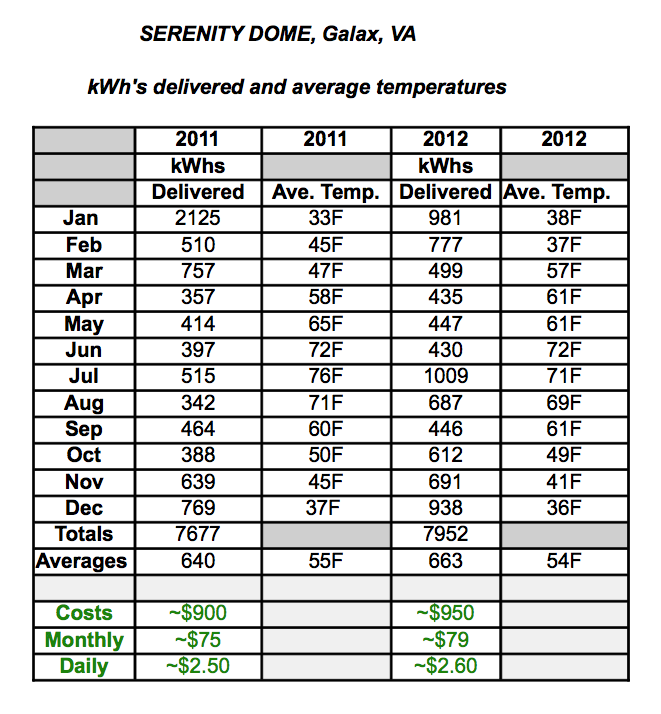 ---
2011 and 2012 Energy Use for our Monolithic Dome
A Simpler Energy Use Table
After last year's lengthy article on energy consumption, we decided to simplify our energy data for ease of reading. This table shows two years of utility delivered, temperatures and costs for our Monolithic Dome. Totals and averages are also included.
As before we continue to capitalize on the efficiency of Serenity Dome with the use of a modest solar array for electric and passive solar with an outdoor water stove for winter heating. We continued to use only one 8K BTU air conditioner window unit in the main living area, ceiling fans, strategically closed curtains and an ERV to cool Serenity Dome during the warmer months.
Some of our reported higher electric use was due to operating one or two dehumidifiers to decrease our relative humidity during the foggy months. There were also construction projects and new-born chickens with warming lights that caused utility use to not correspond directly to the weather temperatures.
Simplifying our data, we omitted the Stator meter readings, along with the utility sell back credit we receive; we reported the total utility delivered before the credit was applied by our utility company.
On average we cut our utility cost by about 1/7th during 2012. Despite two billing increases in 2012, we saw little increase in our total consumption or cost.
This was due in part to a large consumption in January 2011 when we heated the dome with space heaters only and was probably offset by the activities noted in the above paragraph during 2012. We have more monthly notes on variables if anyone would like more information. Feel free to drop us a line at [email protected].
So what about the cost?
According to the Energy Information Agency in 2009 (latest data), the average annual energy expenditure for a New Jersey household was $3,065, more than twice as much as the $1,423 for the average California household. Virginia, where we live, averaged $2,157.
In 2012 our total energy costs were just under $950! That's just under the average energy cost per household of $962 for a one-person household in 1997!
If an additional 1/7th is added to make up for our solar sell back credit, the bill comes to $1,086.
See:
http://www.eia.gov/consumption/residential/reports/2009/consumption-down.cfm http://www.eia.gov/emeu/recs/recs97_additions/recs_changes.html
for further government data.
Beyond the above figures, it's still amazing that even with our ongoing projects and hobbies, Serenity Dome uses about 1/3 the energy of our previous brick-and-stick built home in Virginia Beach. It's tough to find an investment like a Monolithic Dome!
---
Note: Maddy and Chris Ecker frequently write about their experiences as owners of a Monolithic Dome home. Their Serenity Dome, nestled along the Blue Ridge Parkway near Galax, VA, is a Callisto-style 2/5 oblate ellipse. It has a diameter of 50 ft, 28,700+ cubic feet, 2675 ft2 of floor area, and 103 yds3 of concrete in the shell and floor for thermal battery.