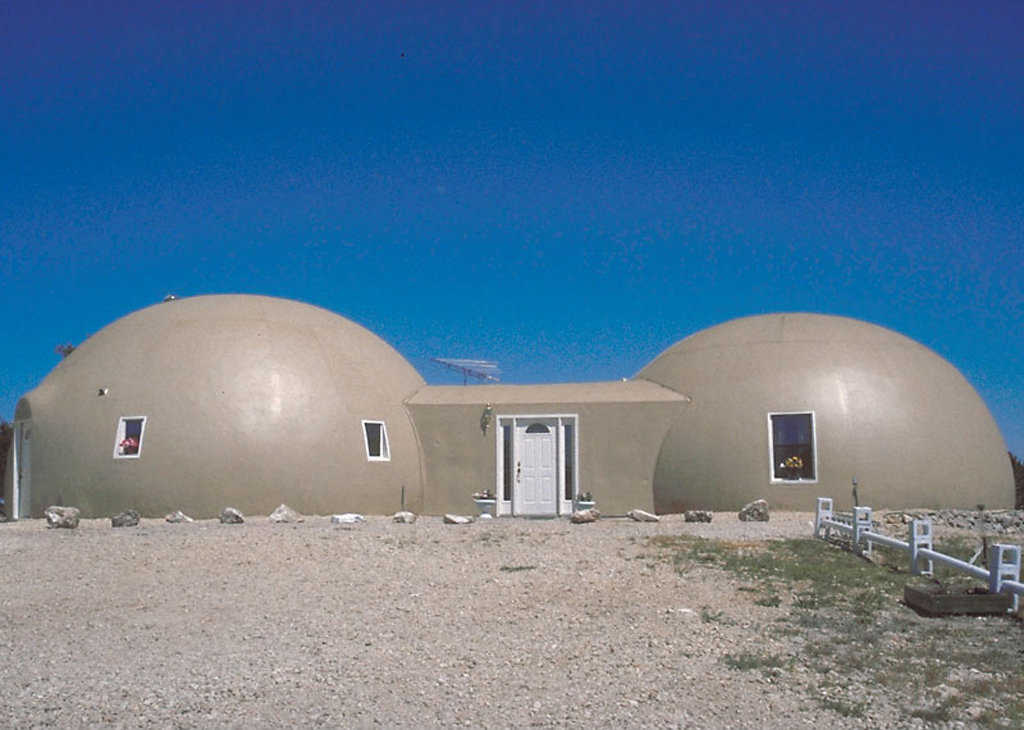 ---
Two Educators Retire: The Hanson's Double Dome
No more cold mornings!
Asked how their life changed with their move into a Monolithic Dome home, Ken and Nola Hanson – like the educators they are – quickly gave their favorite example. "We lived in a nice, conventional house in San Antonio for thirty years," Ken explained. "All those years, it was our habit to turn the heat off for the night and to rise early in the morning. But the San Antonio house was so cold. We'd wake early – anxious to get going – then turn the heaters on and rush back to bed until the house warmed.
"In October (1997), we moved into the domes," Ken continued. "Now we set the thermostat at 75 degrees, and never touch it. The house stays comfortable. So we wake early, and we do get going."
The double domes
Once the Hansons ended their thirty-year careers in public school education — Ken as principal and Nola as teacher and coach — they moved to a ten-acre site outside of Hondo, Texas. There, they contracted with Click Dome Builders to build their new home, consisting of two domes and a connecting foyer.
The larger dome measures 34′ × 16′ and provides about 900 square feet of living space. "Our living-dining area takes up about half of that space," Ken said. "The other half is shared by the kitchen, a guest bedroom and a bath. We have a ceiling storage area with an opening in the hallway off the bathroom. Right now, we're using a ladder to get into it, but eventually it will have built-in, folding stairs."
The smaller dome is 32′ × 14′. Its 800 square feet of living space include the master bedroom and bath, a craft and computer area, and a large walk-in closet.
Each of the domes has a two-foot stemwall — a feature both Hansons insisted on and that Monolithic Constructors incorporated into the design of the Airform structures. "Neither of us wanted walls with a low curvature," Ken said. "Nola was worried about furniture placement. I'm 6'2" and I wanted the curvature to begin over my head, and it does. It begins at 6'8" and Nola has no problem placing furniture."
An attractive connection
The foyer, connecting the domes, is a rectangle of 12′ × 20′, with a rounded top. It's constructed of the same material as the domes, giving this three-part complex a finished, smooth flowing appearance.
Ken said, "The domes have met all our expectations. Bill Click did a good job. Attaching the foyer was a learning process for him. He had not done a job like that before. But he did really well. There are no leaks."
Years of research
The Hansons researched domes for about fifteen years before actually deciding on a specific type and builder. "Mostly we looked at wooden domes in various parts of the country," Ken said. "But there was always a leakage problem — either water leaks or air leaks. About five years ago, driving along Interstate 35, we spotted Monolithic Domes. Bruco wasn't even there then. Just the office. But we stopped. We stopped and investigated and were immediately impressed with the integrity of Monolithic Domes."
Advantages
When it comes to advantages of dome living, the Hansons have a list of just five items, each of near-equal importance to them: security, roominess, brightness and acoustics, low maintenance, cost efficiency.
Security
"We feel secure here," Ken said, "from violent weather, fire, and intruders. We know the domes could withstand a tornado."
Violent weather in Texas neither begins nor ends with tornadoes. Hail storms and high winds create their share of havoc. To protect their windows and French doors, Ken made covers cut from light-weight, easily handled and stored, insulation material, purchased in sheets 4′ × 8′ × 2″ for $7.00 a sheet. He said, "We doubled it, so the covers are four inches thick. Our windows and French doors are set-in about six inches. The covers fit right over the glass. We secure each cover with two spring-type curtain rods." It takes the Hansons just ten minutes to "pop" all the covers in place.
"We know the domes will not burn, so we have no fire insurance on the structure," Ken said.
"Except for the French doors off the living area, our doors are metal, set into metal frames, secured into the concrete with long screws," he continued. "I don't think these doors can be kicked in — and that's a nice feeling."
Roominess
"You can be flexible and creative in a dome," Ken said. "There are no supporting walls to worry about. It's easier to plan because you can move things around."
While still in the planning stage, the Hansons did their share of moving around. "Bill Click was patient with us and creative in helping us come up with exactly what we wanted," Ken said.
After Click attached and inflated each Airform, but before beginning the spraying, he drew lines on the floor, delineating each area. Nola then placed newspaper, cut and pasted to match the size of major furniture pieces, where that furniture would stand. This gave the Hansons a realistic idea of spacing and window placement, so that final changes were quickly made.
Brightness and Acoustics
With white walls, a skylight in the living area and a sun pipe in the kitchen of their large dome, the Hansons seldom turn lights on during the day.
They enjoy this brightness and they enjoy the acoustics. Ken said, "It can be so quiet. We had a storm with winds of forty miles per hour, but we did not know it until we looked out the window. On the other hand, when the TV is on, we automatically have surround sound."
Low Maintenance
The Hansons love the fact that domes require less upkeep than traditional houses. "We don't have to worry about repainting the outside," Ken said, "and we don't have to worry about replacing damaged or blown-off shingles."
Cost Efficiency
The Hanson's property has not yet been appraised. But conventional houses in their area, usually appraise at $80 to $100 per square foot. The turnkey price on the Hanson domes, including an acre of land, but excluding the road and the septic and well systems, was $53 per square foot. Their monthly utility bill, for this all-electric home, averages $75.
Note: This article was originally written for and published in the Spring 1998 Roundup. Dollar amounts quoted are 1997/8 prices.