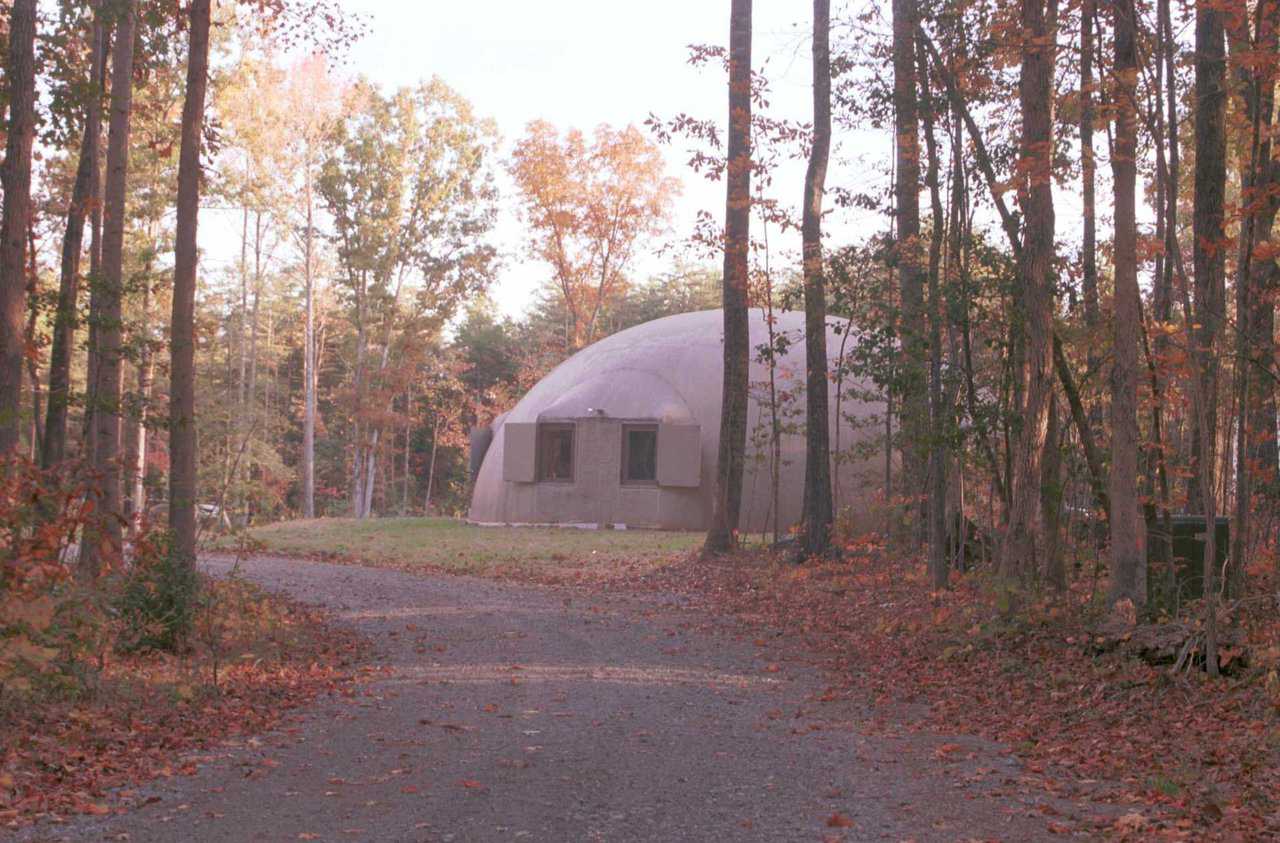 ---
Triumphs and Trials: A First Monolithic Dome Construction
Sweat Equity
That's what Erling and Barbara Rosholdt of Insight Developers near Charlottesville, Virginia claim it took to build their first Monolithic Dome, a 40-foot diameter, three bedroom, one bathroom home.
Yet they don't regret the experience. In fact, they're anticipating building an adjoining dome in 2002. There are two reasons for that enthusiasm. Erling gives the first: "Our dome construction process took two years of weekends, holidays and vacations — more than 3,000 hours. But we're very proud of our dome home accomplishments and savings. We often tell others that we pioneered the first Monolithic Dome home in Virginia."
The second reason has to do with what the Rosholdts experienced and what they learned during the construction of their first Monolithic Dome. Here are some of those triumphs and trials.
Erling and Barbara had each worked in the construction industry. They knew a lot about conventional construction when they first surfed onto the Monolithic Dome website that immediately caught their interest.
Barbara says, "We wanted a home that would provide protection and efficiencies." They ordered and reviewed more information, then participated in the April 1998 MDI Workshop.
"All our technical questions were answered," Erling says. "Now we were challenged with finding the right location for our future home, designing a floor plan and getting financing."
Their search for financing became their first trial. After purchasing 13 wooded acres with springs and a stream, the Rosholdts, armed with dome plans and detailed cost quotes from all trades, contacted 11 lenders.
"That was a mistake," Barbara says. "We wasted six months trying for normal financing. We were turned down by all 11 lenders."
Reason: Virginia state loan insurance underwriters refused to back a loan that could not be market appraised. Since no concrete dome home within 100 miles had sold during the past year, such a market price determination could not be made. Fortunately the Rosholdts qualified for a $40,000 equity loan on their current home.
"We used that money for site work, foundation, Airform, foam insulation, rebar and concrete," Erling says. "Then each future paycheck-to-be-earned became our construction fund. That's sweat equity."
Trial Two
It had to do with a very old 14′ × 55′ trailer the Rosholdts bought to live in during weekend construction. Erling says, "We set up our main electric meter base with two service disconnects: one for the trailer and one for our dome-to-be. When the power company came to install the underground service cable and transformer from the road pole to the trailer, a distance of about 600 feet, they charged a full installation fee of $4200 — their usual fee for service to a storage building. They agreed to refund that charge once our dome qualified for its occupancy permit, but that hurt our budget. So lookout for unexpected expenses."
A Triumph
But the Rosholdts' decision to have their foundation poured before ordering their Airform turned into a triumph. They had placed two inches of polystyrene insulation board vertically between the foundation and ground and one inch on the slab area over the plastic vapor barrier for the slab hot water hydronic system.
A local concrete company then poured and finished the slab and foundation together. Erling says, "I wanted the strength from a monolithic pour so that any ground shifting would move the structure in unison, like a floating slab."
But the added insulation changed the dimensions and shape of the slab. Though that change was slight, it called for a careful remeasuring before the Airform was ordered.
During the eight weeks that it took the Airform to arrive, the Rosholdts built the airlock entrance, bought a commercial fan blower, installed a temporary outside electric service panel and began a begging and bribing campaign. "We desperately needed help to move and anchor the heavy Airform," Barbara says. They got the help, connected the blower and airlock and turned on the fan. Nothing happened! "Finally we found the membrane at the blower port that we needed to cut out," Barbara says. "Fourteen minutes later our dome was inflated!"
Their Airform was designed with four 10′ × 7′ eyebrow style augments so that door and window frames would fit vertically. The Rosholdts used commercial steel 3′ × 6′8" door frames for their doors and windows. They inserted an additional door header piece into the framing around each window and fashioned it into a windowsill. That gave them masonry window framing already set into the foam and concrete.
Before spraying, Barbara duct-taped the front of electrical boxes and door and window frames. Although the tape protected surfaces that didn't require spraying, it proved hard to remove once it got covered with foam and concrete. When Erling ordered their concrete, he specified, "No aggregate," but the concrete truckers hadn't cleaned the drum of aggregate from another delivery. "We were given extra, no-charge concrete," Erling says, "but we still had unproductive equipment down time. First dumping the concrete through a screen on top of the pump hopper would have prevented this."
After an unsuccessful search for a local shotcrete sprayer, the Rosholdts desperately called MDI. They got two experienced sprayers from Dome Technology, who had just finished a project in Kentucky. Barbara says, "We really needed even more help. It was very difficult to run the pump, move the scaffolding and lighting about, and spray shotcrete. But we were so grateful that Monolithic Dome Institute arranged for the expert shotcrete help we got."
With the spraying completed, the Rosholdts considered their dome to be at the halfway point. They began doing most of the remaining work themselves and have completed all of the interior. Erling says, "We have regrouped our finances during 2001 with an unconventional mortgage consolidation loan and are planning Phase II, our adjoining dome, in 2002. We want to coat both domes with galvanized chain link fence, 1 1/2" of shotcrete and a final, colored sealer to protect both Airforms from deterioration and fire."
Obviously, for the Rosholdts, their triumphs have more than made up for the trials they experienced and overcame during the construction of their first Monolithic Dome. Through Insight Developers they provide information and building consultation and can be reached at 540-894-0554 or [email protected].
For more information about photographer Andrew Shurtleff, click here!
Phase II (Submitted by Rosholdts on September 24, 2003)
We obtained a first dome mortgage in 2002 after the lender saw how nice and conventionally livable it finished out. This helped us consolidate our debts and gave seed money to start the next two (adjoining) 28 ft and 40 ft domes. The Winter of 2002 was mild enough to work outside weekends preparing the foundation site and slab concrete formwork. The foundation slab was finished and Airform ordered in April 2003. We set up our EHP1500 pump, Inflator fan, airlock, inflated Airform in July, and then set up steel door and window frames inside.
The spraying of foam insulation during our mid-August "vacation" was very hot work. Once the insulation was finished, the interior insulated "shade" was much cooler. Our friends once again helped us with the rebar hanging, while we mounted electrical conduit and outlet boxes.
We hired two expert shotcrete sprayers from Monolithic Dome Institute and flew them to Virginia. About sixty yards of ready mix were sprayed for the two domes. Before the last sand coat, the fan was turned off and we removed the airlock, cleaning up the rebound with a Bobcat, using the framed garage door opening. From August 2002 to September 2003, we continued to work weekends framing the walls, installing plumbing lines, electrical wiring, and HVAC ductwork. Contractors installed windows, drywall and flooring. We finished painting and installing fixtures in September 2003, leaving only a few "punch list" items to complete for final inspection.