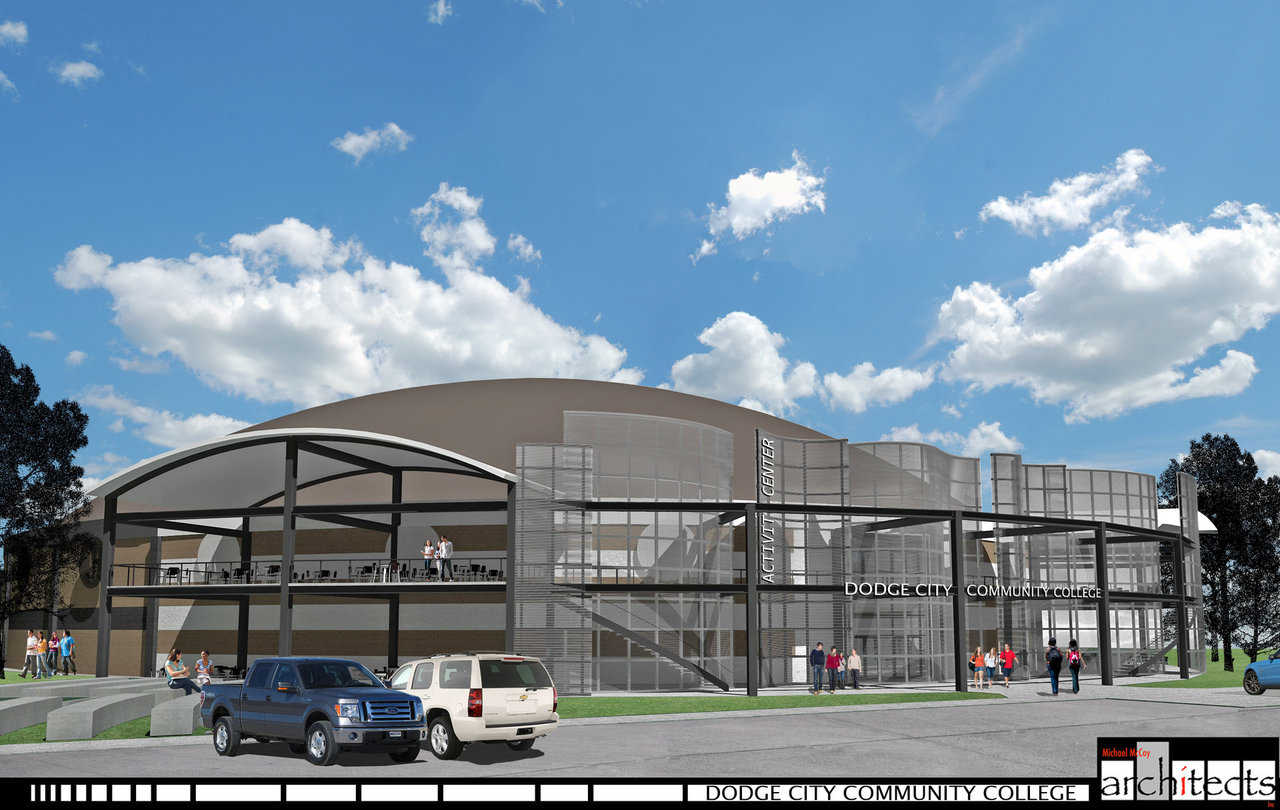 ---
Dodge City Community College plans multipurpose Monolithic Dome Activity Center
Note: Michael McCoy, author of this article, is the owner of Michael McCoy Architects, Inc. of Midwest City, Oklahoma.
Dodge City, the place and name is infamous.
Few can hear the name without conjuring images of a wild frontier complete with gunfights, saloons, stagecoaches and dirt roads. We can, to this day, hear the clink of spurs on the boardwalk or the chink of the harness on the horses. We loved Matt Dillon and Festus in Gunsmoke as they fought to tame the Wild West every week.
Today is a different day for Dodge City.
It no longer wages war on outlaws and bandits, but faces the untamable natural elements as tornadoes rip through rural and urban areas, with no thought for life and property. It is staggered, like all America, with a struggling economy.
No longer can a community institution, such as Dodge City Community College, be single-minded in its approach to expansion.
The plan
The newly proposed 50,000-square-foot, 250-foot-diameter, concrete Monolithic Dome will serve its students and faculty as an activity center, hosting an indoor soccer field, basketball court, climbing wall, student lounge, many amenities for fitness training, coffee/snack bar, study room and movie room.
This facility will be a remarkable asset to the college with an impressive profile on Dodge City's horizon.
Investing in the community
As Dodge City Community College seeks funding for the activity center, it is also proposing to invest in the community. One consideration is housing the Ford County Communication's emergency response system to secure the viability of necessary emergency personnel, equipment and services in times of disaster.
The FEMA approved design would provide a community shelter before and after a tornado, as well as, an alternative hospital triage center.
The dome additionally has very practical money saving capabilities in upfront equipment costs, lower day-to-day energy costs and reduced maintenance costs.
Legends were made in Dodge City as Bat Masterson and his lifelong friend, Wyatt Earp, partnered to bring law and order to an untamed city. Perhaps epic tales will never be told of Dodge City Community College and its activity center, but taming a wild frontier and forging partnerships to confront the elements of nature and an uncertain economy ensures the legacy
continues.
Related Links