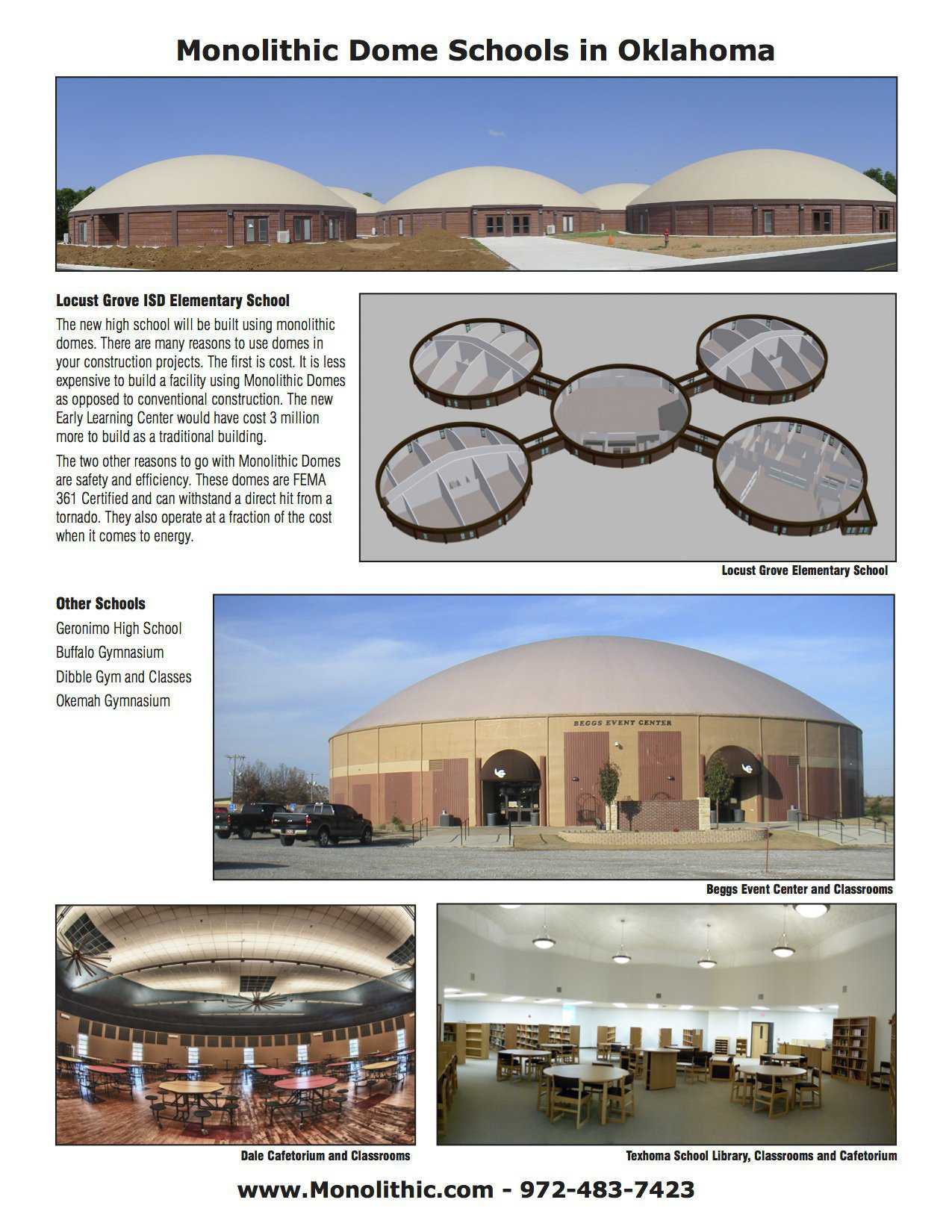 ---
Letter to all School Superintendents and Legislators
School children were killed in the tornado that hit Moore, Oklahoma in the spring of 2013. That need not happen at your school – or any school. It is possible to have A TORNADO-SAFE and AFFORDABLE SCHOOL.
You need a structure that can provide what FEMA calls "near-absolute protection." It's the ability to survive even a F5 tornado. A Monolithic Dome, constructed of steel-reinforced concrete, has that ability, and that may make it eligible for a FEMA grant to cover up to 75% of a Monolithic Dome's construction cost.
The disaster-resistant Monolithic Dome is also bullet-proof, with easily protected and monitored entrances. It's fire-resistant and termite-proof.
And it is affordable. The initial cost of a Monolithic Dome compares favorably with that of a traditional, unsafe structure of the same size. While that's good news, the news about a dome's ongoing costs – energy, insurance, maintenance – is even better.
Monolithic Domes are insulated with sprayed-in polyurethane foam that fills a building's every nook and cranny, making it super energy-efficient. On average, power bills are at least 50% less than those for other types of buildings of a similar size and use.
Your tornado-safe dome can be designed for any need. It can have state-of-the-art classrooms or be a gym, an auditorium, a cafeteria, a multipurpose center, etc. Your campus can include one dome of just about any size or several domes. It can be certified as a community disaster shelter.
We can work with you on a design/build basis or collaborate with your architect. We know how to do that and have already done it for many schools – including several in your state.
School should be a place where children feel and are safe – even from a tornado. Let us help you make your school such a place. Please contact us via email [email protected] or phone 972-483-7423. We will answer your questions and provide you with all the information you need. And please visit our website: www.monolithic.com – it has detailed information and photos of Monolithic Dome schools.
---
opd05242013