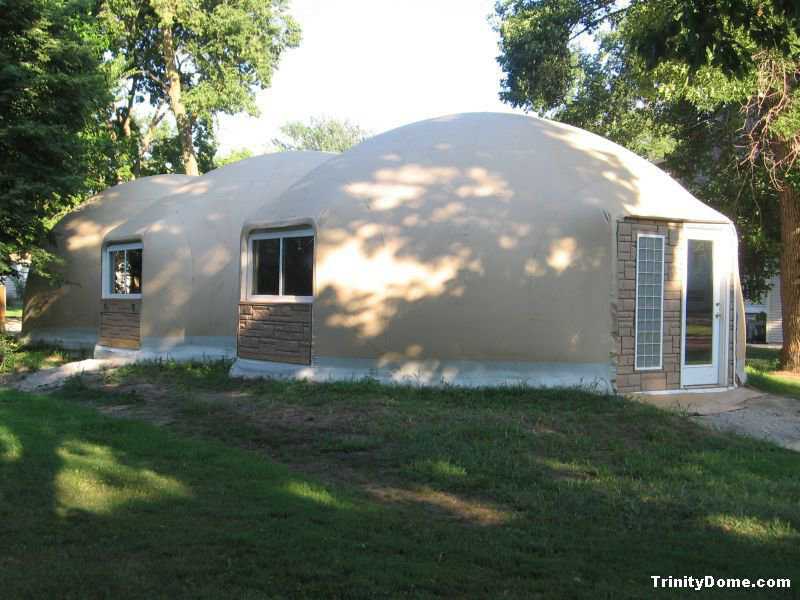 ---
Trinity Dome
When it comes to realistic, do-able how to's on Monolithic Dome construction, Kevin Meylor's website rivals our own.
In the summer of 2005, Kevin, a Workshop graduate, began constructing his first Monolithic Dome — a home in Vermillion, South Dakota for Pat and Helen, his retired parents.
But Kevin didn't just start building. Since his full-time job is that of an online computer trainer, he knew the value of Internet information. He began documenting — taking pictures and writing detailed descriptions of each step in the construction process.
All that documentation became a true-to-life chronicle of the evolution of a Monolithic Dome that looks and reads like a website storybook.
And it's far from static. Kevin continues updating. Just today, July 19, 2006, his home page comments on South Dakota's three days of 100-degree temperatures; but with no air conditioning, the inside of Trinity Dome stays in the high 70s.
In addition and with new pictures and words, Kevin describes enhancements he and his parents are adding to the outside of this dome home.
Trinity Dome
Helen and Pat Meylor said that they chose the name "Trinity Dome" because of their belief in the Holy Trinity and because it is a tri-dome structure.
To that, Kevin added, "This dome sits on a narrow lot. Now they plan lots that are 60 to 80 feet wide. Back in the late 1800s and early 1900s when lots were originally plotted, they were narrow and this one is only 44 feet wide. But it's 125 feet deep, so it's long and narrow."
Such a lot was well suited to a Caterpillar-like design of three interconnected domes. "With setbacks on each side, we could only go with a footprint of about 24 feet, so, instead of trying to build one big dome, we built three domes in a row," Kevin said.
Each has a diameter of 24 feet and a height of 13 feet for a total area of 1232 square feet.
Convertible and Rentable
Moreover, Trinity Dome is convertible. As a home for the elder Meylors, the first two domes encompass a master bedroom, two bathrooms, a living area, a dining area and a kitchen. The third dome is a large garage that can be split from the main part of the house with an entry alcove, closets and windows to become two more bedrooms. "So when my folks are done with it," Kevin explained, "it can become a three-bedroom, two-bathroom house." (For a diagram of each floor-plan, see the "Plans" section on Kevin's website.)
Because it's convertible, in the future, Trinity Dome, will be very rentable. That's a good thing because it's located in an older neighborhood amidst homes redesigned as housing for students attending nearby University of South Dakota.
The City and a Building Permit
Given that Trinity Dome was built within an established neighborhood — many of which will not allow nontraditional structures — I wanted to know what problems Kevin encountered in getting a building permit. So I asked him. "Absolutely none," he answered. "No problem at all. That's one of the things I was really — very positively — surprised by too."
According to Kevin, Vermillion, a rural and academic town of less than 10,000 residents was "completely receptive to the project from the very beginning and thought it was neat that somebody was going to try something different. They had no problem with it as long as it met building codes, which it did. They were completely supportive and let us try some things that hadn't been done in town before, like our shallow, frost-protected footing. Of course it complied to code.
"But," Kevin continued, "the folks at City Planning and Zoning did indicate that there might be some people in town who would not be too excited about something that looked so different. And we have heard the full range of comments — everything from 'You must be crazy' to 'Wow, that's really cool; what a great idea!' But we really had no problem — no one saying, 'You're not going to build that next to me' or anything like that."
Kevin credits that easy acceptability to the nature of its locale. Houses flanking Trinity Dome are rentals as is most of the block. Consequently, Kevin thinks that most of the owners are not as emotionally invested in the homes as they could be. "But my folks like it," he said. "It's a nice neighborhood and the students who live around here are great."
A First Project
Kevin said that his interest in Monolithic Domes dates back to the 1990s with an Internet search for hurricane-proof structures. At the time, he and his family were living in Galveston, Texas. After finding monolithic.com, he made a trip to Italy, Texas and, a short time later, enrolled in one of Monolithic's dome building Workshops.
Prior to that, his construction experience consisted of boy-building-things projects and house projects, such as helping to frame a room in a basement or installing siding.
Kevin said, "I had no professional building experience at all, but I always liked building activities. When you are doing things on the computer, you don't always see any tangible results. But dome building is — excuse the pun — very concrete. You get something that is touchable and will be around physically for a very long time. I find that pretty neat!"
Admittedly Kevin needed a lot of help with Trinity Dome. For that he relied on Monolithic as well as knowledgeable, cooperative professionals. His website describes that team and the problems they encountered and solved.
Except for the foam sprayer Kevin subcontracted, none of his team had any experience with Monolithic Dome construction. Some had a difficult time visualizing what needed to be done and then doing it. Kevin said, "I was fortunate that the gentleman who helped with the shell caught on quickly. For some of the others, it took more conversations, more education because it is so totally different from what they're used to."
As for his own lack of building experience, Kevin said, "I think that when it comes to domes, in some sense not having experience is sometimes a benefit. You come to it fresh. No preconceived notions. No established mindset dictating how to do it or that there is only one way to do it. It forces you to think in terms of what is the best way to do it."
More Monolithic Domes?
Now that he is at least a little experienced, Kevin's future plans include the construction of a Monolithic Dome for his family on a beach lot in Galveston. "But first," he said, "I have to finish Trinity Dome so my folks can move in and show it off during the Dome Tours."
September 7, 2006