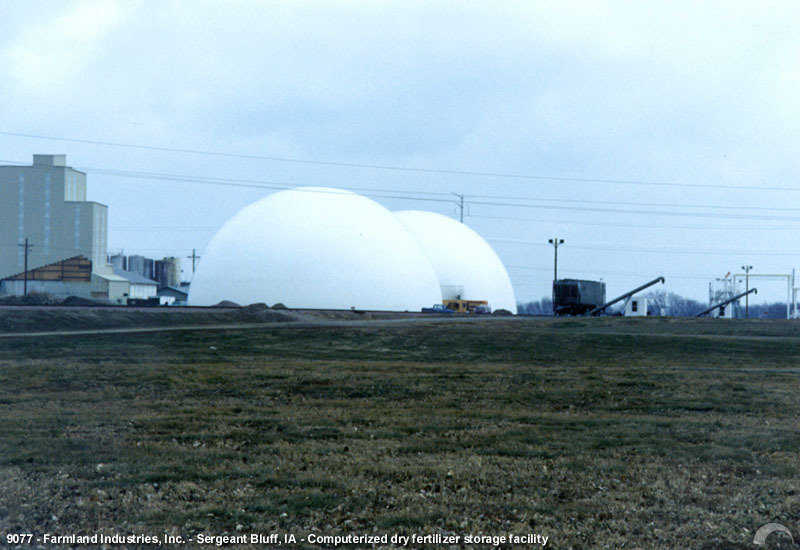 ---
Monolithic Fertilizer Storage for Farmland Industries, Inc.
Largest co-op gets dome storage
Farmland Industries, the largest cooperative of farmers and ranchers in North America, completed a two-dome facility for storage of dry fertilizer in Sergeant Bluff, Iowa. The larger dome is 120' in diameter and 60' high, while the smaller is 115' in diameter and 58' high.
Loy Bakken, Terminal Superintendent and Manager for Farmland, described its operation which began in March 1995. "Our facility in Sergeant Bluff is on the Missouri River, about as far in as a float barge can get," he said. "It stores dry fertilizer manufactured in various areas of the United States and overseas and shipped via ocean-going ships."
The bulk fertilizer is transferred onto barges, then shipped up the river. When the barges arrive at the domes, clamshell buckets dip into the fertilizer and pour it into the domes.
Finally, an elaborate truck-loading system loads it onto semi-trucks for transportation to distribution centers. Computerization makes it possible for just a skeleton crew to run this entire operation.
After recently revisiting Farmland's dome, Linden Fielding said, "I was really impressed with its cleanliness. Great efforts are taken in handling the fertilizer. Nothing is scattered."
Since moisture turns dry fertilizer into unusable mud that eventually dissolves, Loy Bakken favored constructing a dome rather than a wooden, shingled A-frame used in many places. He said, "I worked at such a structure for many years. We had constant repairs because shingles blew off and the fertilizer actually began eating into the wood. It was like having a monster consuming the structure that housed it.
"As far as moisture goes," Bakken continued, "the Airform makes the difference. It's sealed so there are no seams and that makes the top and sides moisture-proof. Then too, polyurethane helps tremendously. Concrete alone probably would draw more moisture."
Farmland did consider structures other than a Monolithic Dome. Bakken said, "At first, construction costs of a dome seemed much higher. But the further we got into it, the more the prices came together. The cost of constant upkeep finally decided it, and we would definitely do it again. We've not had problems or disappointments.
Farmland's Sergeant Bluff storage facility has had visitors from its own neighborhood and from places as distant as China. Bakken said, "The China delegation got to go inside a dome that was vacant at the time; they saw the internal portion. Their reaction seemed favorable."
Originally printed in our Spring 1998 Roundup