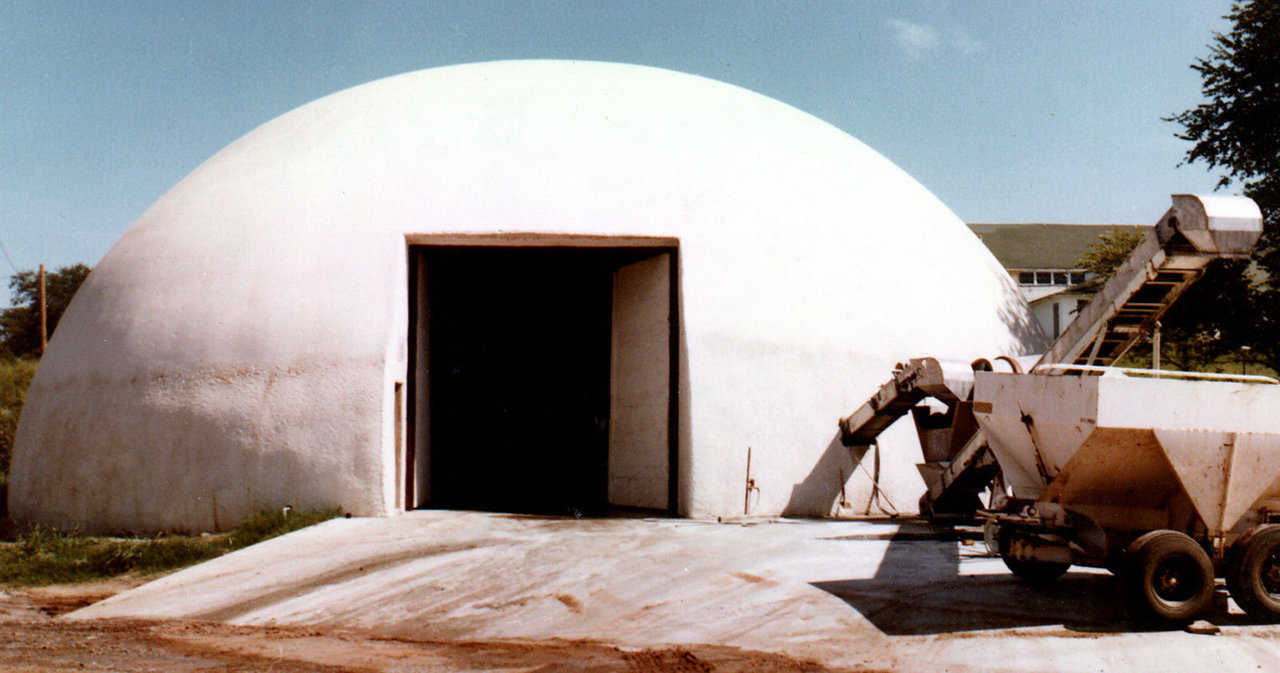 ---
A Little History and A Lot of Photos of Monolithic Dome Storages
Around the world
Monolithic Dome bulk storages have been constructed around the world to store chemicals, fertilizers, cement, sand, salt, feed, grains, aggregates, carbon, chips, seeds, peanuts, coke, blasting powder – and the list goes on. The benefits of utilizing Monolithic Dome construction technology for bulk storage are defined and described in "Anatomy of a Bulk Storage."
An interesting story
It's about a Monolithic Dome bulk storage in Chandler, Oklahoma. We didn't have it quite finished when a salesman, representing a fertilizer company, saw what we were doing and reported it back to his bosses in Catoosa, Oklahoma, at the OK Grain Company.
OK Grain Company monitored the progress of the dome and, after it was completed, ordered a dome for their river front facility.
Before we got mobilized to get there, they decided they needed two. By the time we had the second one under construction, they needed four more. So we wound up building six on that river front.
Tugboat captains visiting Catoosa began reporting what they saw, and it wasn't long before we were building on the Mississippi, the Missouri, the Tom Big B, the Columbia and many other major rivers. This was a period during the eighties when fertilizer use was expanding tremendously over the United States.
More storages
The construction of these large fertilizer storage facilities led to other bulk storages – especially cement.
Bulk materials create tremendous bursting pressure in a storage. This huge amount of pressure can be best contained in a circle. Rebar used in the construction of the dome acts like hoops on a barrel. The bigger the building, the more hoops.
Monolithic Domes also have another advantage: materials that settle fall away from the dome, rather than pushing the side walls down, as is the case in a silo. This may not seem like much, but it changes the foundation dramatically.
A silo may need a foundation ten to twelve feet thick, but the Monolithic Dome will only need one or two feet. That's a tremendous cost difference.
Originally published June 29, 2005