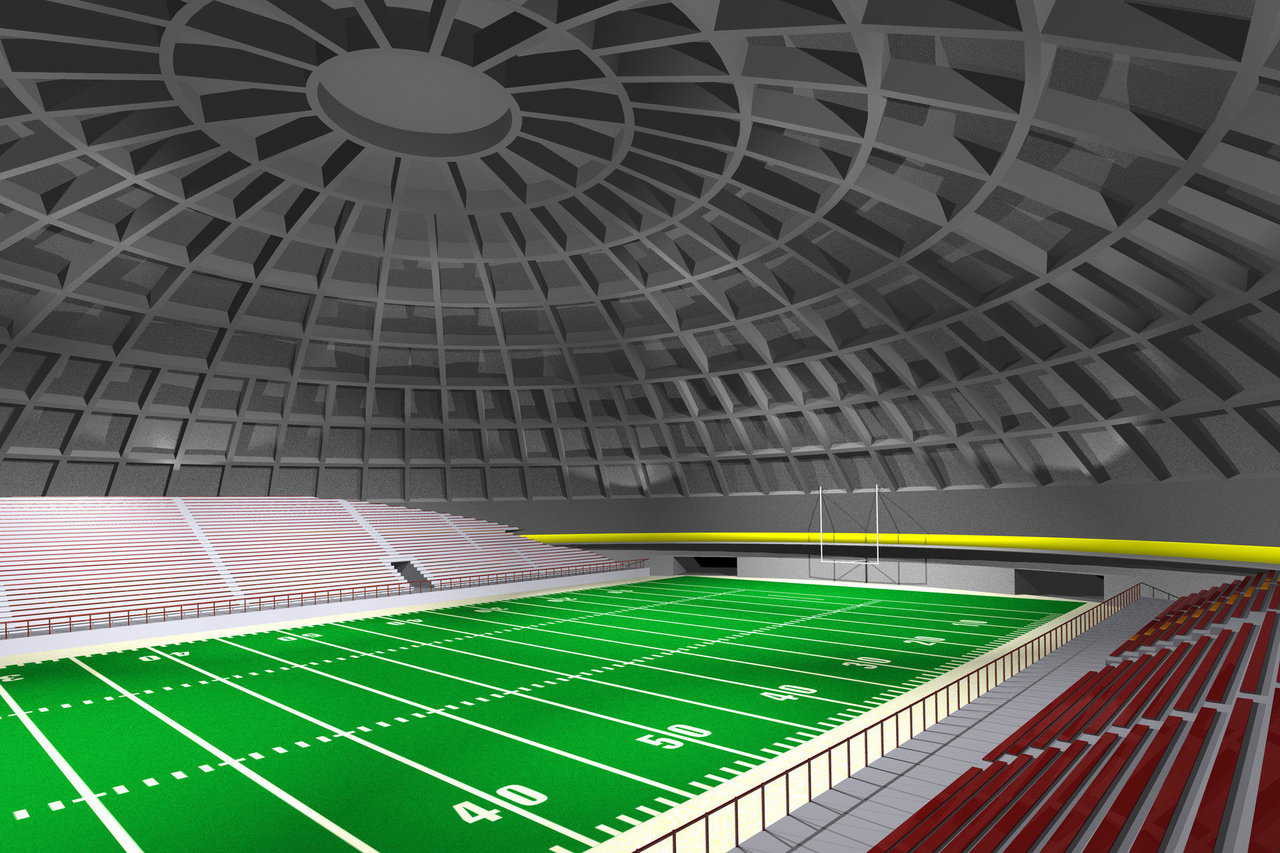 ---
Monolithic Megasphere: Affordable, State-of-the-Art, Indoor Stadium
Welcome to 21st Century Technology
Your high school or community college can now afford an indoor football stadium, or what we call the Monolithic Megasphere, that can be built for about the same amount of money as an outdoor football stadium.
The Monolithic Megasphere is a Monolithic Dome, with a 434-foot diameter and a 154-foot height. It makes an unbeatable, small stadium that can be adapted for many other functions, and it's affordable.
Price
The 2012 price for a basic dome, excluding finish, land preparation and utilities will be approximately $14 million. This means that a finish facility will run from $20 million to $50 million total, depending on what is put inside.
Consider what this facility will do for your organization. Please call or e-mail us for more information.
For sizes over 434 feet in diameter see the Monolithic Crenosphere.
Monolithic's cutting-edge technology, used in the construction of a Megasphere and in its heating, cooling and general maintenance, make this indoor stadium affordable. It also makes an extremely good practice facility.
In the Past
Before the Monolithic Dome, enclosing a stadium was too expensive an undertaking for a school district or local college. Standard methods, or the traditional way, for enclosing a stadium just cost far too much.
Those who did spend the money on traditional indoor facilities faced energy inefficiency and outrageous costs for heating or cooling. Their building maintenance also proved extremely expensive.
Now is the right time
But schools can now have an indoor facility that can easily accommodate a football field for either practice or play and can be used for other events. The Monolithic Megasphere is a gorgeous dome with a smooth exterior, a ribbed ceiling and a clear-span interior that can house the amenities any organization needs and wants.
Because it's a Monolithic Dome, the Megasphere offers control over the weather, temperature, insects and security. In addition to these control factors, its marketability promises increased revenue. Such an undertaking comes off extremely well when you amortize the cost of the facility over the actual benefits to the community.
Protection & Safety
A disaster-resistant Megasphere can be a safe haven for school children and the entire community when tornado warnings sound. A 434-foot dome provides 148,000 square feet of floor area (not including upper levels) and seating for nearly 9,000 people. That's ample space for an entire community during threatening storms, earthquakes or tornadoes.
Your Megasphere would be the safest building in town.
Energy & Maintenance
Energy and Maintenance costs for a Monolithic Dome, including a Megasphere, are generally 50% to 70% less than that for conventional structures of a similar size. We have found that energy savings amortized over 20 years often repay the entire cost of the facility.
Because the stadium is enclosed and out of the weather, maintenance on the field, track, bleachers, concession stands, bathrooms and locker rooms is greatly reduced. The dome itself is a virtually maintenance-free structure. Over the years it will need to be washed, and perhaps painted, but the building is permanent. It will not rot, burn or slowly fall apart as many traditional structures do.
Marketability & Return on Investment
Because the Megasphere is designed as a multi-use facility, it can be rented to civic organizations, other school districts and more. In addition, the district can save rental fees by using its stadium for its own events, such as graduation, dances, contests, fund raisers, etc.
Return on investment (ROI) is what we make on what we invest. Money made by renting or leasing the facility will not only pay for its own maintenance and electricity, but it could, if managed properly, be an excellent source of income. If bad weather hits – be it rain, storms, snow or lightning – the event could still be held and maintain its income through the rental fee, concessions and ticket sales.
Using a school bond to build this type of facility makes good financial sense. We also have access to other financial institutions that are ready to help finance. If located in tornado country, FEMA Grant money may help pay for it. Facility rental fees from other groups and the dome's energy savings ensure the building not only pays for itself, but makes money at the same time. It's a win-win situation for the school and community.
Projected Income for Various Events. These are sample fees for a Megasphere
Field events from nearby colleges, universities $9,000.00 per day
Soccer, Rugby, La-crosse games from local and state tournaments $10,500 per day
Graduation ceremonies of over 9,000 seats $8,000 per day.
Graduation ceremonies of under 8,000 seats $7500.00 per day
Traveling road shows, concerts of up to 14,000 seats with portable stage (30% of gate receipts)
Civic/Charity events (Walk for Cancer or similar) Clean up fees only
Political Rallies, local, state or county – $9,000 day
Local fairs/exhibits/and trade shows – field only $7,000 each day plus clean up fee
Expositions, educational meetings, science fairs – $1,000.00 each day plus clean up fee
U.I.L. football playoffs split fees and parking/concessions
Professional football, baseball, soccer teams training camps $50,000 per week
Summer youth training camps – clean up fee only
Church conferences/revival meetings over 5,000 seats $4,000.00 per day
Red Cross emergency shelter open to public
Other Uses
Tennis (on turf with striping changes)
Basketball
Volleyball
PE Activities
Concerts
Competitions of all kinds
Weight lifting
Meetings
Pep Rallies
Softball practice
Improved Design Options
Megaspheres are clear-span structures built without interior support columns. No visual obstruction from any seat is a definite plus for spectators!
Clear-span construction allows for increased design options for seating, locker rooms, concessions, lighting, score boards, offices and more. The ground level of an indoor facility could include a full-size football field and a track plus the following amenities:
4 concession stands
4 team locker rooms
2 Sports Trainer rooms
Restrooms
Weight Room
Conference room/class room/teaching
8 coaches offices
More than 3,000 square feet of storage space
seating for 8-10,000 people
Laundry and uniform area
4 waiting rooms (small lobby-like)
Sky boxes
TV Platforms
The upper level, or mechanical level, could include floor-mounted, indirect lighting and access to all mechanical units such as heating, air-conditioning and scoreboards.
Megasphere: A Win-Win
It seems ludicrous to spend over $20 million for an outdoor stadium where only five or six home football games are played per year. For nearly the same price, why not build an enclosed stadium that offers multiple uses and serves as a disaster shelter for the school population and the community? Since the stadium could be rented by other districts to host different events, it has the potential to become an asset – a serious money maker – instead of a huge expense.