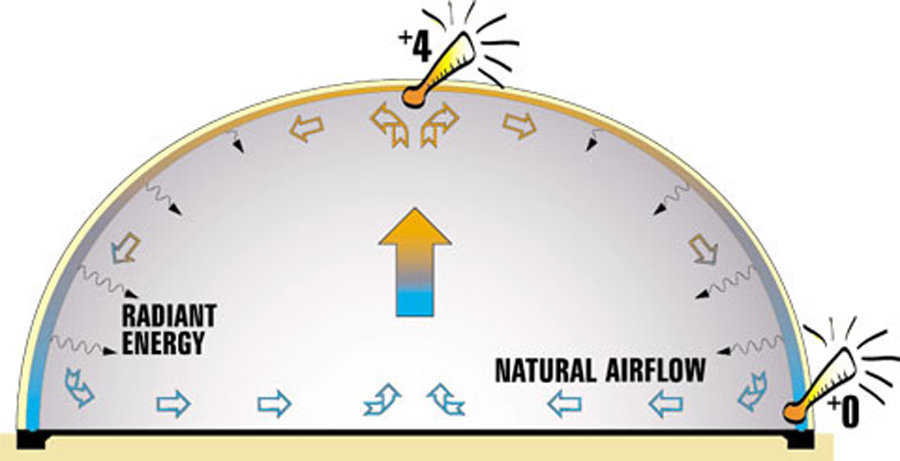 ---
Heating And Cooling Systems for Monolithic Dome Homes
HVAC for Monolithic Domes
Determining the size of heating and cooling systems for Monolithic Domes offers some really special challenges. These challenges require serious original thinking. Factors that mean almost nothing in conventional structures are important in Monolithic Domes.
For instance, radiant is a large portion of the natural heat transfer of the Monolithic Dome. But in conventional buildings, it is a relatively small percentage.
Experience is really about all we have to go on. The experience of heating and cooling conventional buildings is well documented and has attained almost scriptural status. But that experience cannot be transferred automatically to Monolithic Domes.
Heating for the Home
Experience shows that well insulated, conventional homes in the northern United States take approximately ten watts of heat per square foot. So, a 1200-square-foot, well insulated, conventional home takes about 12,000 watts of heat.
But a Monolithic Dome home with that square footage can be heated with approximately two watts of heat per square foot.
However, heating systems are not designed for that small of an output. Therefore, we recommend using small electric heaters scattered throughout the house, or better yet, a circulating hot water heat system in the floor.
Typically, we use 1/4-inch tubes every two feet in the floor and a conventional 40 or 50 gallon water heater to heat the water. Obviously, the other rules of layout utilizing manifolds and pumps are needed. The heating system does not have to be very significant, but the underside of the floor should be insulated.
Cooling for the Home
Cooling in the south half of the United States can easily be accomplished with one ton of air conditioning per 1000 square feet of home. Air-conditioning systems usually start at a minimum of 1.5 tons, so a Monolithic Dome up to 1500 square feet requires a single 1.5 ton unit.
It's sometimes argued that such a structure requires more than 1.5 tons because it's cheaper. In reality, we need to use the 1.5-ton unit because it will run more and control humidity better. So the rule of thumb is 1 ton per 1000 square feet.
Obviously, someone with a cooking kitchen for the harvest crew may need more, but for a normal home the one ton per 1000 square feet works very well and requires only the purchase of a 1.5-ton unit, the smallest and least expensive that's commercially made.
A Hypothetical Monolithic Dome Home
Let's consider a 40′ × 15′ oblate ellipse, with all rooms on the ground floor, and a total living area of 1256 square feet. Our imaginary dome is here in Italy, Texas where it is very hot during most of the year and rarely gets terribly cold. How do we minimize the capital costs of the heating and cooling equipment, and cut energy usage?
Experience tells us that we need about 18,000 btu (1.5 ton – the smallest standard split furnace system with ¾ of the heating circuits disabled) of cooling for the summer and about 5 kwh of electric heat for the winter. As an alternative, we can utilize 4 each 5,000 btu window air conditioners and 4 each 1250 kwh electric heaters to heat and cool this house.
Here, in Italy, our hypothetical dome could be heated and cooled by a 1.5 ton furnace or a combination of four individual window a/c units and four heaters. A quick check of prices shows that the separate units are about a fifth of the price of the furnace. However, most people do not want window units. But in this case, total capital equipment cost is radically different, so any energy savings must be considered against those numbers. Maintenance must also be considered. Obviously, window units will be cheaper to service.
Heat pumps are an alternative to standard HVAC solutions. But the initial cost of the equipment will far outweigh any ongoing energy savings so it's probably a less viable solution.
Regardless of the system chosen, our theoretical house will be energy-efficient. This is most influenced by the internal set temperature. Conventional homes in this area will cool to 20 degrees below the ambient or surrounding outdoor temperature. Monolithic Domes, fitted as described, will hold more than 30 degrees below ambient. In other words, when it is 105 outside, the conventional home will be 85 inside, but the Monolithic Dome can be held at 70 or less. If the Monolithic Dome is allowed to hold higher in the summer and cooler in the winter, the yearly energy costs will go down even more – probably to less than $500 per year.
ud August 27, 2012