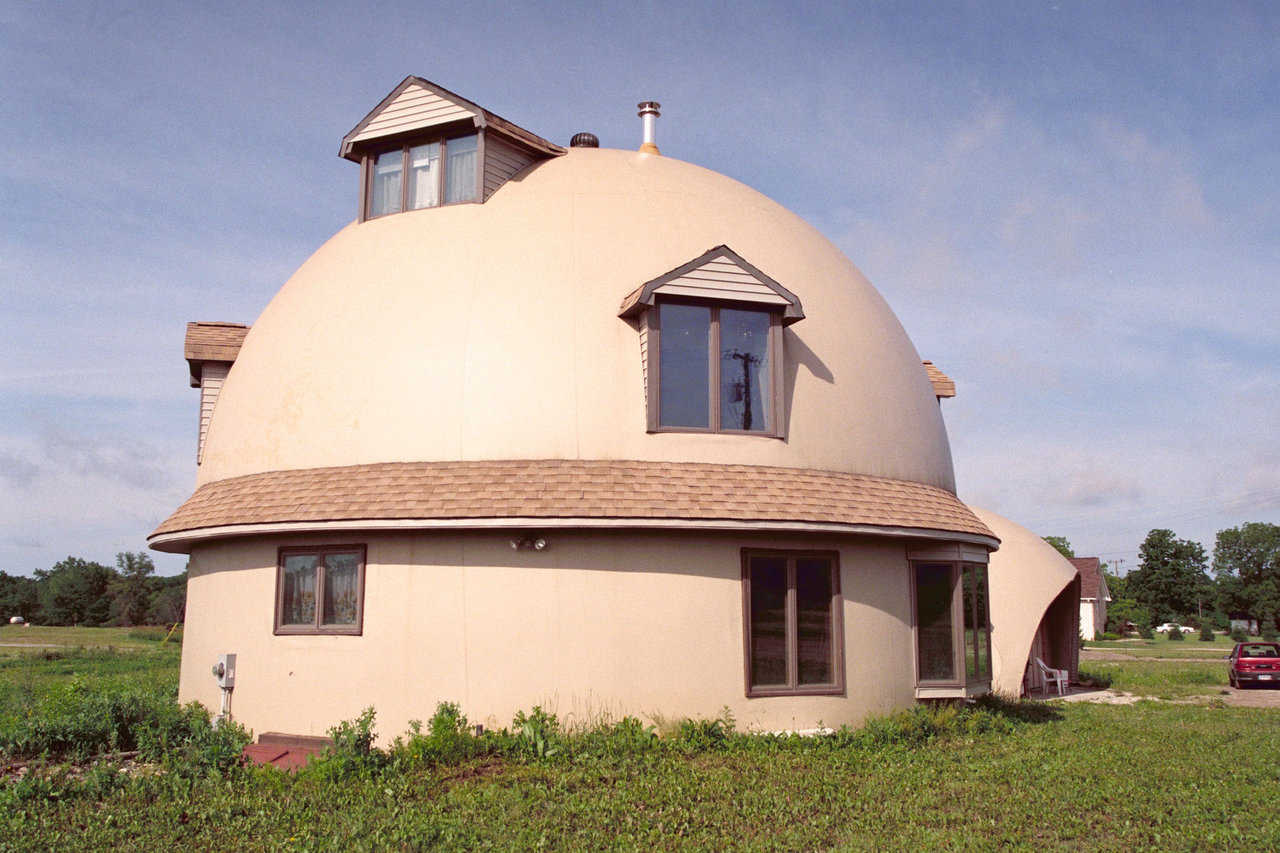 ---
Stemwalls: What Works Best
Just what are the options?
We often design a Monolithic Dome with a vertical stemwall that goes straight up and acts as a base for the dome. Over the years, we've developed several ways of building stemwalls and have tried several options. This article primarily discusses those options.
Option #1
Generally, the least expensive stemwall is one built into the Airform. Such stemwalls work well for house-size domes without making them too tall.
Example: For a dome with a height of 20 feet, we use an oblate ellipse with a diameter of 20 feet and a height of 7.5 feet. At its base, we add a stemwall 3.5 feet tall. The resulting structure has a domelike appearance, but in reality it goes virtually straight up for 3.5 feet, then arches.
It's an attractive design for modest-size buildings. But for a 50-foot dome, the oblate ellipse doesn't need the added height of a stemwall, even for a small second floor.
Option #2
In this option, a stemwall is built, then a dome is set on top of it. Such a stemwall can consist of a series of straight sections, set around the building, that make the placing of doors and windows very easy.
We can also build a round wall and set the dome on it. We often use this technology for school buildings, especially gymnasiums. With a low-profile spherical dome on top, this stemwall gives the building a conventional look, with conventional doors and windows, plus all the advantages of a dome.
How do we build these stand-alone stemwalls?
We want them insulated and waterproof. We know that people have built a wall of concrete blocks and set a dome on it. But concrete blocks leak water and air, so that's not for us. However, we have successfully used a concrete block wall as part of an Airform.
Here's the best way we have found to build a stemwall:
Construct a concrete block wall, 10 to 20 feet high as needed, utilizing standard laying techniques.
At the top, pour a bond beam to which the Airform will be attached. This bond beam can be wider or narrower, as needed, for eaves.
Attach the Airform to the top of the bond beam and inflate. This in essence makes the stemwall part of the Airform.
Spray the inside surface of the stemwall and the dome with a continuous seamless coat of polyurethane foam, from the ground, clear up and over the inside of the Airform.
After placing the rebar, apply structural concrete to create a one-piece (Monolithic) building.
Alternatives to the block wall are brick walls, as well as sprayed-up concrete walls. But we have found that deviating from this type of stemwall always creates problems.
ICF and EIFS
ICFs or Insulated Concrete Forms are stay-in-place, interlocking panels of concrete sandwiched between 2-inch thick layers of Styrofoam. They resemble large cinder blocks, often about 2 by 3 feet.
In today's world, many folks want us to build a stemwall of ICFs and top it with a dome. That would work. But is the small amount of savings worth it? With an ICF stemwall, you no longer have a blanket of continuous polyurethane foam nor a continuous structure going up and over the top. In other words, you are sacrificing strength, the ability to withstand natural disasters and energy efficiency.
The California Handbook of Energy states that insulation on the outside of a thermal mass is far more important than insulation on the inside. With ICFs the insulation becomes divided between the two. So half of the insulation is no longer on the outside where it should be for maximum effectiveness.
ICF might pencil-out to be cheaper, but by the time you put a permanent exterior on its outside, you have spent a lot of money. And an ICF often uses an EIFS (Expanded Insulation Foam System) coating on its exterior.
The EIFS does not have the durability or longevity of a concrete block. That is one of the main reasons use concrete block.
There are other systems that will work. We are presently experimenting with ceramic tile, but it's sure tough to beat a hard concrete block. When we use a split face with built-in color, we know we are done with that block wall for a lifetime. I still think it is a good idea to seal the concrete block, but it can be done without sealing.