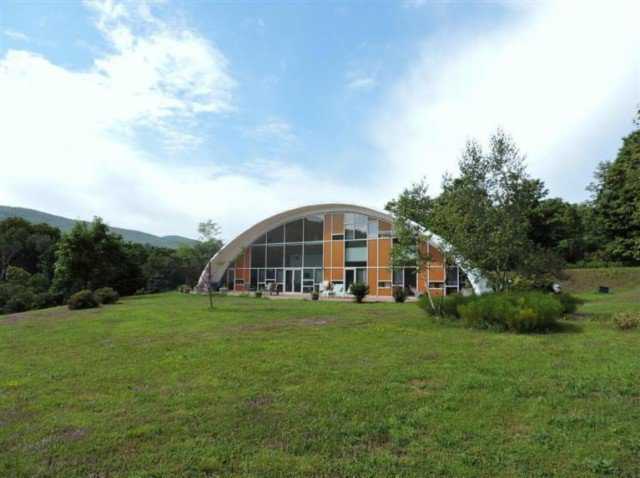 ---
Sophisticated shell house for sale in the northern Catskills
If you're looking for a modern, sophisticated house design, All Over Albany spotlights a beautiful shell house, built using Monolithic's unique construction method.
This Roxbury house was designed by architect, Seymor Rutkin. The article, The Shell House, quotes from a 2004 Seymor Rutkin interview with Architectural Record:
Since the creation of a shell shaped house is not the customary brick-and-mortar type construction found normally in the Catskills, Rutkin found it difficult to obtain a general contractor comfortable taking on the job. So, he took it upon himself. Working closely with manufacturers from the Monolithic Dome Institute, Rutkin was able to design an air-form shell to his exact specifications. The shape of the house is formed within Rutkin's reusable air shell. The form was sprayed on the interior with foam insulation. Next, steel reinforcements were attached to the interior side of the insulation and sprayed with concrete. Once the air form is removed the exterior of the concrete shell is sprayed with what Rutkin refers to as its "protective skin."
As for All Over Albany saying they think the Monolithic Dome Institute sounds like something from Lost…we'll take it.
Read The Shell House in its entirety on All Over Albany.
For more photos, see them on the Keller Williams website.