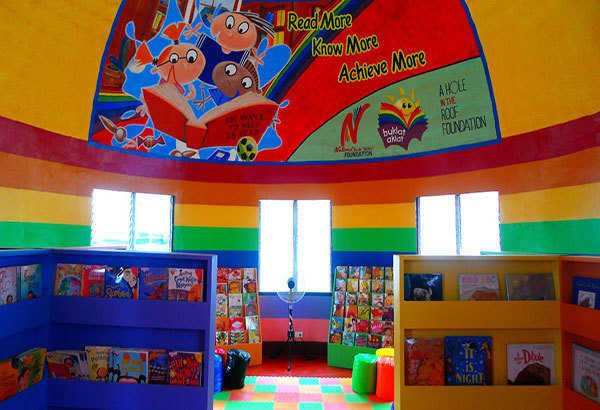 ---
Colorful dome library offers hope while rebuilding from Philippine typhoon
Children read new books under a large, friendly mural painted on the domed ceiling. It says, "Read More, Know More, Achieve More". It's a motto for the library and a goal for several charities, working together, to build ten Monolithic Dome libraries in the Philippines.
It started with best selling author Mitch Albom who visited the Leyte region after typhoon Yolanda destroyed the area.
"What I saw there just devastated me, and yet inspired me. The love of learning that went on in the tattered areas right after the terrible Yolanda storm was just something to see. I remembered feeling that I needed to do something about it. I asked some of the people I was there with, 'What can we do?' and 'Where are the libraries?' They said they were destroyed along with all the schools," Albom recalls of his February 2014 trip.
He started Donated Reading for Youth of the Philippines – also known as DRY Libraries. Together with the National Book Store Foundation and others they raised money for the domed library and received hundreds of books. Dozens of popular writers like JK Rowling, Stephen King and John Green supported gave their support — and even signed copies of their books. They worked with Habitat for Humanity to build the concrete dome.
Habitat for Humanity wanted to build a structure that could withstand future disasters. A structure that would show people a better way to build. An example that will hopefully encourage others to build similar, stronger buildings.
"With this project, we thought of introducing the dome as the strongest structure to withstand any calamities. The problem with its shape is social acceptance in terms of housing. So our strategy was to start with community facilities such as a library, so people can begin to appreciate the value of a structure like this. It's not only what you see inside that is educational, but the structure itself is also educational. We are in exciting times; we just have to think differently," explains Habitat for Humanity Philippines Foundation, Inc.'s managing director Charlie Ayco, the non-government-organization tasked with building the DRY Libraries.
About the domes, Mitch Albom said:
"But what I'm most proud of is should Mother Nature decide to rear her head at a future date, the design of these monolithic domes is built to withstand that, and we don't ever have to worry about losing the chance of kids being able to read just because of a storm." — First D.R.Y. Library Opens in the Philippines
Nine more DRY libraries are planned for the Philippines. To learn more read, the rest of A nation rebuilt by books on the Philippine Star website.
DRY Libraries needs your help. To donate, visit the DRY Library page at A Hole in The Roof Foundation.
More stories and pictures