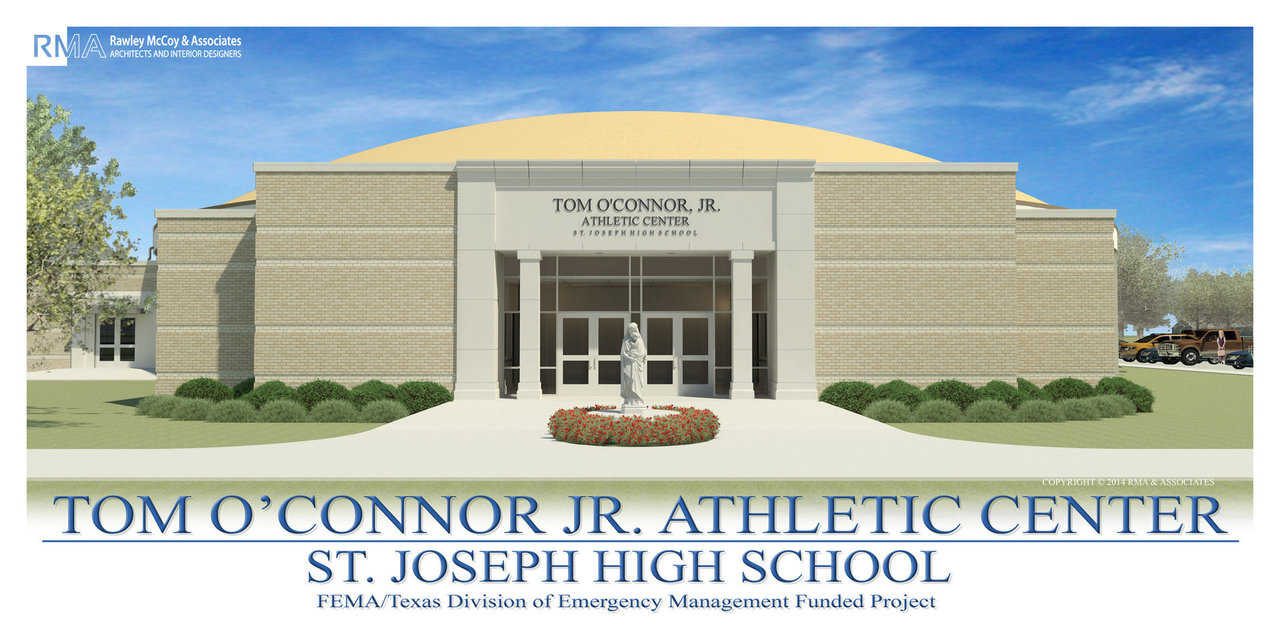 ---
Domed safe rooms disguised as gymnasium, cafeteria, and community center
The architect addressed an audience of school administrators. He proclaimed that no one can affordably build large safe rooms. The best a school could do are small rooms for refuge in an emergency. He was followed by David South who said, yes, you can build a large safe room — disguised as a gym.
In the decade since, schools and cities across the country are building Monolithic Dome safe rooms — disguised as classrooms, gymnasiums, community centers, churches and more. Contrary to the architects prediction, a Monolithic Dome safe room is actually LESS expensive than conventional (non-shelter) construction. Plus the dome owners cut their power bills by 75 percent.
Gymnasium nearly complete in Victoria, Texas
In their story, the Victoria Advocate writes about one shelter disguised as a gym.
The 168-foot-wide, steel-reinforced, concrete dome outside St. Joseph High School was designed to shelter evacuees from hurricane winds, but it's the structure's other purpose that has the school really excited.
William and Fred Proctor, juniors at St. Joseph High School, said they are looking forward to playing basketball in the dome's gymnasium and working out in a new weight room. To students and teachers, the emergency shelter goes by another name: the Myra and Clayton Johnson Family Gymnasium.
Community shelter announced in Mississippi
While the Louisville, Mississippi the Winston County Journal reports on a new FEMA community shelter.
Louisville, Mayor Will Hill announced the FEMA approval for the first phase of design and engineering for a Tornado Safe Room Community Center Monolithic Dome in the August 18 regular aldermen meeting.
The projected 12,000 foot structure is projected to cost around $3 million when completed and the city would be responsible for 10 percent of the cost with FEMA paying for 90 percent of the cost in most cases of hazard mitigation funding.
New cafeteria begins in Catoosa, Oklahoma
HJRH 2 News filed a report on three school districts building shelters in Rogers County. One district is building three small, square shelters which are clearly there for refuge only. Catoosa chose to build a Monolithic Dome which will double as their cafeteria.
Superintendent Rick Kibbe said the building will meet FEMA safety standards, will hold about 1,200 people and will hopefully open to the community when it's needed.
"I have to believe that's somewhat comforting to know that you have a building in immediate proximity that you can get to," Kibbe said. "And not only during the school day but parents have a place that is available during the evening if we can get all the details worked out."
Public library begins construction in Kasson, Minnesota
And in Kasson, Minnesota the city is building a FEMA safe room as a the City of Kasson Public Library. According to the Post Bulletin the library will be five times larger than the old, cramped library.
"In our building there is no room," Tiff said. "Some group homes couldn't bring in their residents because of the noise level. … We'll now be able to accommodate those things."
The new library building will be a little more than 10,675 square feet — five times the size of the existing location — and be encompassed in a monolithic dome with stem walls rather than a conventional building.
The design serves multiple purposes. The new building will serve a dual role as a library and a community shelter in case of emergencies. Construction of the dome also will be more cost-effective per square foot than a typical rectangular structure.
Read the rest of the story …