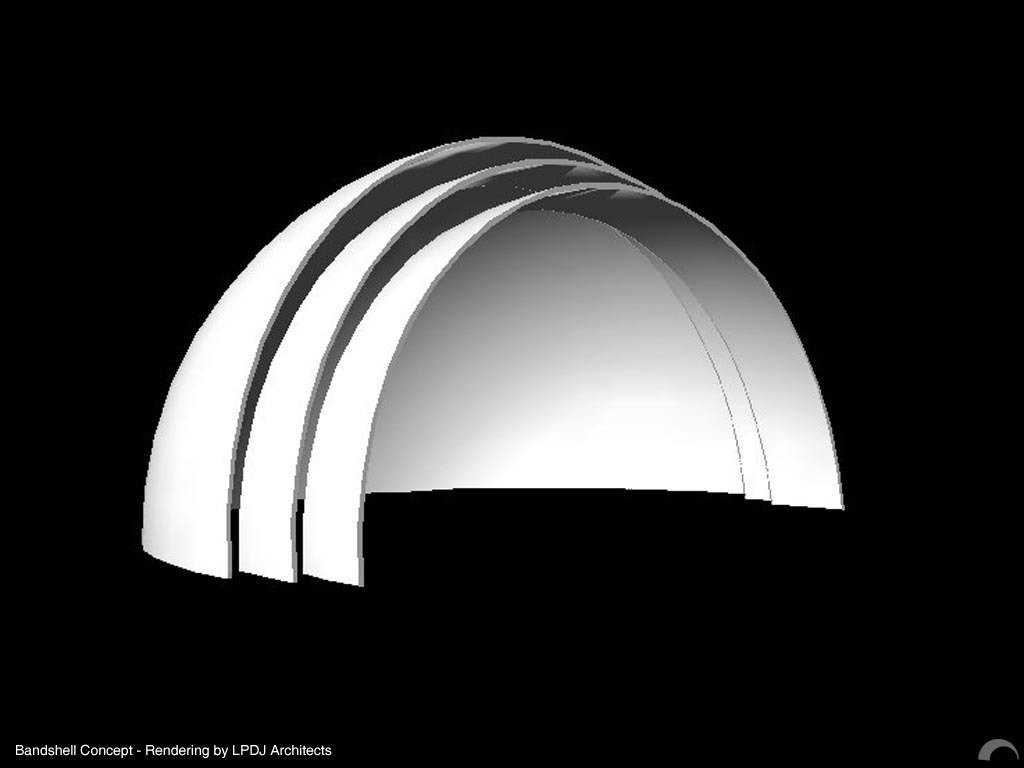 ---
Strike Up The Band: In A Monolithic Dome Bandshell
Add an MCLAD Door (Monolithic Contoured Laterally Moveable Access Door Patent #7,013,607) And You Have A Multi-Purpose Year-Round Useable Facility
Question:
Can a quality bandshell be designed and built economically? Yes – with a Monolithic Dome as the curved form that a bandshell needs.
Picture a bandshell: It resembles a giant, concave seashell – and it also looks like a Monolithic Dome cut in half vertically.
That curved shape of a bandshell is its very essence. You can't have one without the other.
But the curved shape is also what makes many bandshells extremely costly. Some designs call for plywood formed into the bandshell's desired roundness. Others use timbers arranged into a curved, shell-like structure. Either of those choices is expensive in construction time and money.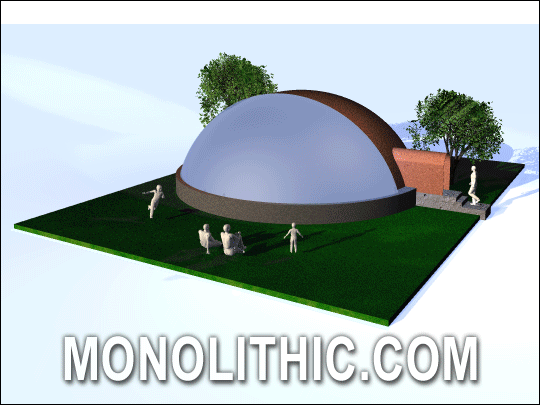 Now consider the Monolithic Dome.
Its curved shape is also its essence. That makes the dome a natural bandshell.
Monolithic technology lends itself perfectly to bandshell construction. You simply inflate an Airform and, with sprayed on shotcrete, solidify that portion of the Airform that you want for the bandshell. Voile! Strike up the band! You have your desired bandshell.
Monolithic Dome bandshells do not come in a standard size or standard shape. They can be built large or small, spherical, hemispherical or elliptical. The client's needs determine size and shape.
In a bandshell, sound focuses out toward the audience through the face of the half dome. So small bandshells designed for small audiences usually need no amplification. An audience seated in front of the bandshell hears clearly without it. But larger bandshells are often amplified.
Believe it or not, a Monolithic Dome bandshell can be tuned. The tuning depends on what portion of the dome is used and on the dome's chosen shape. Domes that are more elliptical in shape transmit or megaphone sound differently than those with spherical shapes.
This article includes pictures of some famous bandshells built conventionally. In appearance, they are nearly identical to Monolithic Dome designs. But in cost, they differ significantly. The air-formed Monolithic Dome bandshells cost much less.
We have also included a picture of a Monolithic EcoShell Bandshell built in 2007 for Shore Front Park in Patchogue, New York. It's a simple bandshell design, ideal for a neighborhood park. It has a 50-foot diameter and a 25-foot height and can handle a fair-sized band as well as other performers. Its main platform/stage floor, approximately 900 square feet in size, is raised 2.5 feet in the shell.
Monolithic's professionals should build the shell. But local artisans can put in the dirt, pour the floor, create the stage, hang lights and sound equipment, etc. A budget price for this simple bandshell is $60,000 to $100,000. Expenses for the floor, lights and coatings add another $20,000 to 50,000, unless donated by local businesses and patrons. (2011 Prices)
This concept can be built slightly larger with a diameter of 70 feet and a height of 35 feet. It consists of slightly more than half of a shell.
For another option, use a 60-foot prolate ellipse Airform. Monolithic can build a larger bandshell to accommodate a larger stage. The shell's face will measure 60 feet, but its depth will measure 25 feet. This configuration produces sound with a slightly different throw that scatters better. If it's designed as slightly more than an ellipse, it may have a bit of an overhang.
A ribboned bandshell is designed with free-standing layered concrete arches set just forward of the bandshell. Their purpose is both practical and aesthetic. The ribbons protect lighting and mechanical equipment and add a dramatic flare to a simple bandshell. Of course the ribbons also add to the cost.
Advantages of a Monolithic Bandshell with an MCLADoor:
It can be used any day of the year as an indoor building.
Practices can go on inside with the door shut.
Door can be opened for performances and closed immediately afterwards.
Bandshell can be used either open or closed for small assemblies, performances, meetings, etc.
Lighting, sound system, and sets can be left in place without fear of theft or weather deteriorating equipment or sets.
It can serve all of the functions of a superior bandshell and serve as a superior ancillary meeting hall.
It becomes a truly multipurpose structure.
Free Evaluation
The design and construction of a bandshell must be estimated based on local criteria. For a free evaluation, please contact us with your wishes and needs. Please supply as much information as possible. Tell us if part of the bandshell will be donated; size of platform, type of lighting and sound system you want; your budget and location, etc. Photos of the area are also very helpful.
Note: We updated this article on February 23, 2009.