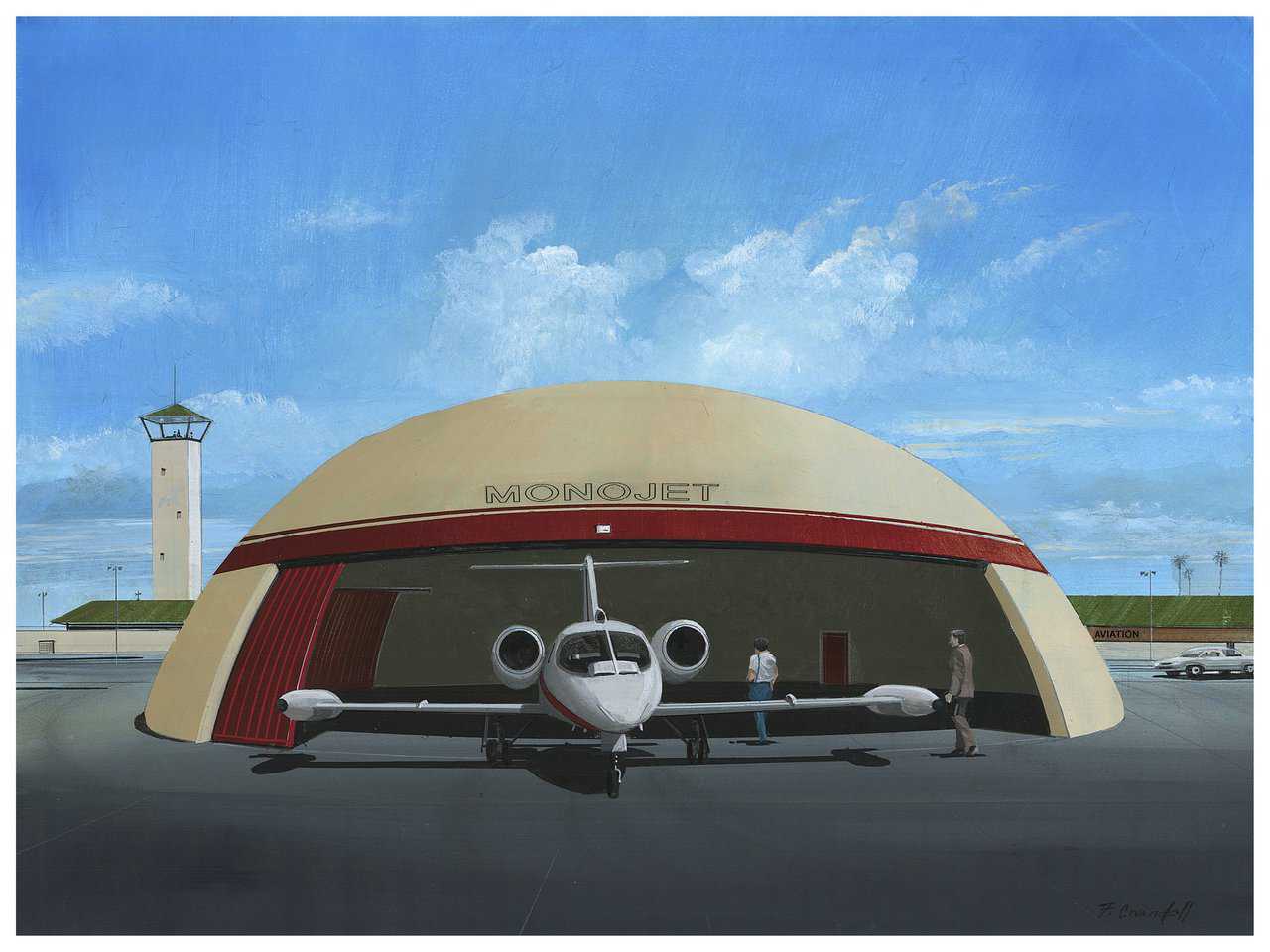 ---
Monolithic Dome Airplane Hangars and the Invention of the Hangar Door
When we built our first Monolithic Dome in 1975-76 we could see that it was obviously a spectacular, big dome (105' diameter 35' tall). It occurred to me that it would make an extremely good airplane hangar. The problem was the door.
Traditional hangar doors fold up. I realized that putting a wide fold-up door in a dome would waste a lot of curved space. Carrying the square fold-up door would also be a potential problem in a round dome, so I started thinking about how to solve this problem.
Years went by, and I decided to aggressively pursue a solution instead of just thinking about it. I began making a model of the airplane hangar out of a round skylight. I cut a piece out of the skylight the size necessary to make the entry for the hangar. Lo and behold, when that piece hit the floor, I realized I had designed the perfect door for the airplane hangar. The answer was staring me in the face! Make the door the exact shape of the opening.
The hangar door would be curved and would rotate either on the inside or the outside. It would have the right height and could be made out of concrete to give the airplane hangar the strength that it gets from the rest of the building. It would certainly beat hanging a light weight metal or wood door on a super strong Monolithic Dome.
More than airplane storage, I was really bothered by the space shuttles being stored in hangars in Florida that were not tornado safe. I realized that if Hurricane Andrew would have hit those hangars, it would have taken them out. It seemed nonsensical to store our most valuable flying machines in the existing metal hangars.
I called my patent attorney and told him I would like to patent the curved, concrete door and that I thought it could be used on the space shuttle hangars. He told me that he had serious doubts about getting any kind of airplane hangar door patented because he thought everybody had already figured out every kind of hangar door that could be built.
I then had my son build a mock up hangar door to go on my Monolithic Ecoshell garage. He did a great job and I took pictures and sent them to my patent attorney. After receiving my pictures, he called me and said, "I have been to Washington, DC and you are going to get that patent for the hangar door.!" And we did! Patent 7013607 (Monolithic Unitary contoured laterally moveable access door).
The need for shuttle hangars disappeared, but most airplanes are still being stored in cheap metal buildings that don't stand up to winds of any force. Our Monolithic Dome hangars are tornado safe, firesafe and earthquake safe—providing "near-absolute" protection. A Monolithic Dome withstands winds in excess of 300 mph, creating the perfect shelter for all types of aircraft.
Our country needs these hangars for both safety and cost-effectiveness. The Monolithic Dome Airplane Hangar is super energy efficient. The Monolithic Domes will cut energy costs for heating and cooling by up to 75%. Metal buildings keep the sun and rain off aircraft but do not provide the thermal protection that a Monolithic Dome provides. A Monolithic Dome's thermal qualities and superior insulation keeps an airplane at a constant, reasonable temperature – extending the life of its high tech electronics and avionics.
The Monolithic Hangar is also about as bulletproof as you can make a building. It will repel rifle fire, grenade launchers and mortars. Case-in-point, in an unsolicited email sent to Monolithic on January 30, 2008, an army helicopter pilot serving in Iraq reported that there was a concrete dome in the middle of an old Iraqi military compound that was being used as a helicopter gunnery range. He said, "It is definitely a concrete dome with rebar reinforcement like your own and we had teams shooting rockets at it for months before someone finally was able to punch a hole in it. Even direct hits would often glance off of it, it was pretty impressive." You can read the letter in Another Testament To Dome Strength and see a picture of the dome.
About twenty five years ago, we built a couple of apple storages in California. These apple storages were fitted with a nitrogen pump that filled the dome with nitrogen and pushed out all but 1% of the oxygen, so the apples would remain as fresh as the day they were picked. They put four million dollars worth of apples in the storage at harvest time and removed the oxygen from the dome. In the spring, they were able to sell fresh apples at a time when they were not generally available. They sold eight million dollars worth of apples!
With minimum effort, that same technology could be used on the F35 hangars to preserve the planes in storage, essentially halting rust and oxidation problems.
Included in this article is a sketch of a Monolithic Dome Hangar for the F-35 Airplane. I have estimated $355,000 constructed about anywhere in the US. More overseas. This does not include interior finish such as bathrooms, offices, electrical services or the HVAC system. The price is for the dome and the door. Since the Monolithic Dome Hangar is constructed utilizing our patented Monolithic hangar door, it should be possible to sell without bidding.
Obviously, the Monolithic Dome Airplane Hangar can be built in virtually any size from small to a building that will hold the largest flying machines built today. It is crazy to not be using these in tornado country for repair hangars and storing planes for long term storage. They will be there for centuries.