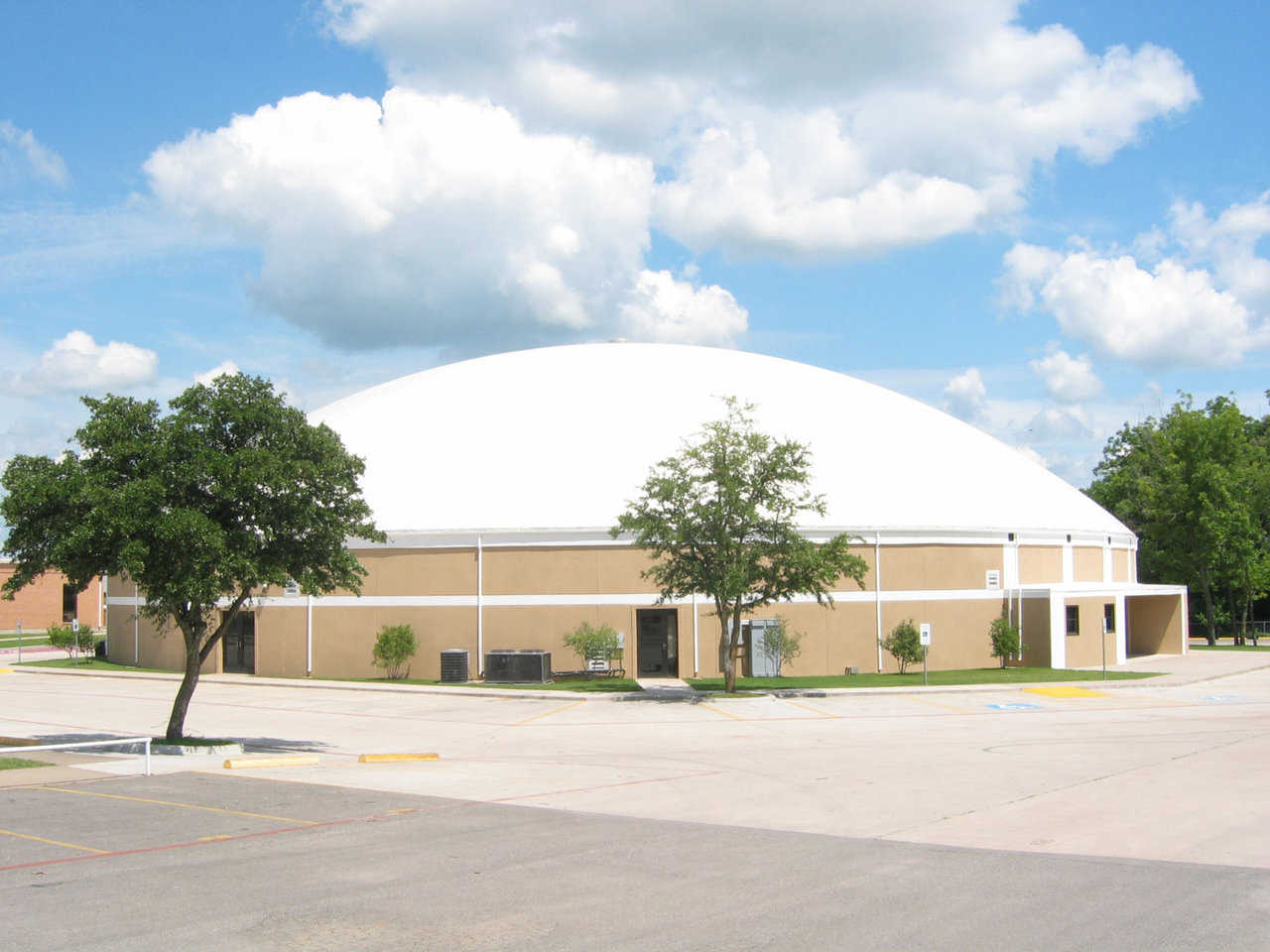 ---
A Super Gymnasium: Gladiator Coliseum
Our neighbors and co-residents get a fabulous gym/disaster shelter!
Once the 2000 residents of Italy, Texas, where Monolithic is headquartered, passed a $2 million bond for a Multipurpose Center, administrators began researching popular construction of school facilities. Superintendent Mike Clifton said, "Of course we were all familiar with the domes. We had a good overview. But we really had to see for ourselves, so we visited Thousand Oaks — a dome already operating — and we came away convinced."
Clifton and his board were impressed with the Monolithic Dome's initial construction cost. He said, "We had an architect come in to talk about a conventional gym, and we knew what we could get for $2 million. With a Monolithic Dome, we could get so much more."
He and the board noted other advantages: low ongoing maintenance costs, superior insulation and low energy use, and the ability to survive natural disasters — including tornadoes, familiar visitors to Texas.
They learned that a Monolithic Dome is built to meet or exceed FEMA 's (Federal Emergency Management Agency) criteria for structures that can provide what FEMA calls near-absolute protection. FEMA says,"Near-absolute protection means that, based on our knowledge of tornadoes and hurricanes, the occupants of a shelter built according to this guidance will be protected from injury or death." (Design and Construction Guidance for Community Shelters p.1-2)
Working with Architect Rick Crandall and Monolithic Construction Manager Alden Porter, Italy High chose a Monolithic Dome with a 148' diameter, in the Orion style — a high, two-story design easily identified with dome arenas. It includes a gym with a walking track, two levels of seating for 1500, an auditorium, classrooms for special activities, concession stands, ticket booths, locker rooms and bathrooms, and concrete parking areas and drives — all for a cost of $85 per square foot.
Multiple uses
It's also been designated as the school's and the community's disaster shelter. And when tornadoes roared through Central Texas in April 2002, residents headed for it.
The Italy Gladiators use this Multipurpose Center for basketball and volleyball, and the general school population of 650 uses it for physical education, theatrical performances and a variety of other activities.
Air-Channel Star System and other features
One of the dome 's features the athletes enjoy most is its maple, parquet floor laid in the famous Boston Gardens pattern. Dubbed the Air-Channel Star System, the floor is the result of many years of research by Robbins Inc.— the company that installed the Boston Gardens floor for the Celtics in 1946 and has since become a major supplier of gymnasium floors for the Olympics, professional stadiums and school gymnasiums.
"That floor works with the athlete, not against him," said Pat Milligan of the Ponder Company, a Dallas-based distributor for Robbins. "It's particularly suited for competition because it minimizes impact forces and helps the players stay fresh."
Construction Manager Alden Porter noted that finding comfortable, durable seating at an affordable price was no easy task. With research, they found Grosfillex Sport Seats, manufactured by a French-based company with a history that dates back to 1927.
Italy purchased 880 Grosfillex Sport Seats — black, polypropylene units with a 14-inch back support for comfort, that are mounted directly onto white concrete risers. Telescopic bleachers provide the additional seating.
For Rent: Gladiator Coliseum – 2008
It's a premier facility for 1A, 2A & 3A basketball playoff games. With a seating capacity of 1,500, ample parking and easy access from Interstate Highway 35E this facility is perfect for UIL schools in the North Central Texas area and rent for $650 without security. (Security can be obtained for $100.00.)
Rental Includes:
Capacity: 1500
Upper & Lower Decks
Climate-controlled facility
Four Complete Dressing Rooms
Ample parking for fans and buses
Easy access on and off of I35E and Tx Hwy 34
Complete Turn Key Game
Setup and Clean up
All Game Workers
Event Supervisor
PA Announcer
Clock Operator
Maintenance Personnel
Concession Stands
Gate Proceeds, Official and UIL fees processed
For Information, Booking or Tour Contact:
300 South College
Italy, Texas 76651
972/483-7411
monica.boyd@italy.ednet10.net
Note: This article combines information from three others, two published in 2002 and one in 2008. Construction prices quoted were valid in 2002.